B&B Print Source designed a uniQue solution for a Portland-area financial institution that wanted to advertise a smart way to earn money while spending.
iQ Credit Union, headquartered in Vancouver, Washington reached out to B&B in late 2022 with a request to add window graphics during the construction of its Happy Valley branch, so people would be aware of the new location well before it opened.
"We jumped at the chance to print and install those graphics, and they were well-received," said B&B Print Source Sales Representative Jay Dressler.
iQ followed up with a request to install full-coverage window graphics at several more branches. The graphics were for a new campaign, "More Money for More Adventures with iQ Credit Union" that advertised the credit union's Intelligent Checking account, which accrues interest at a fluctuating rate.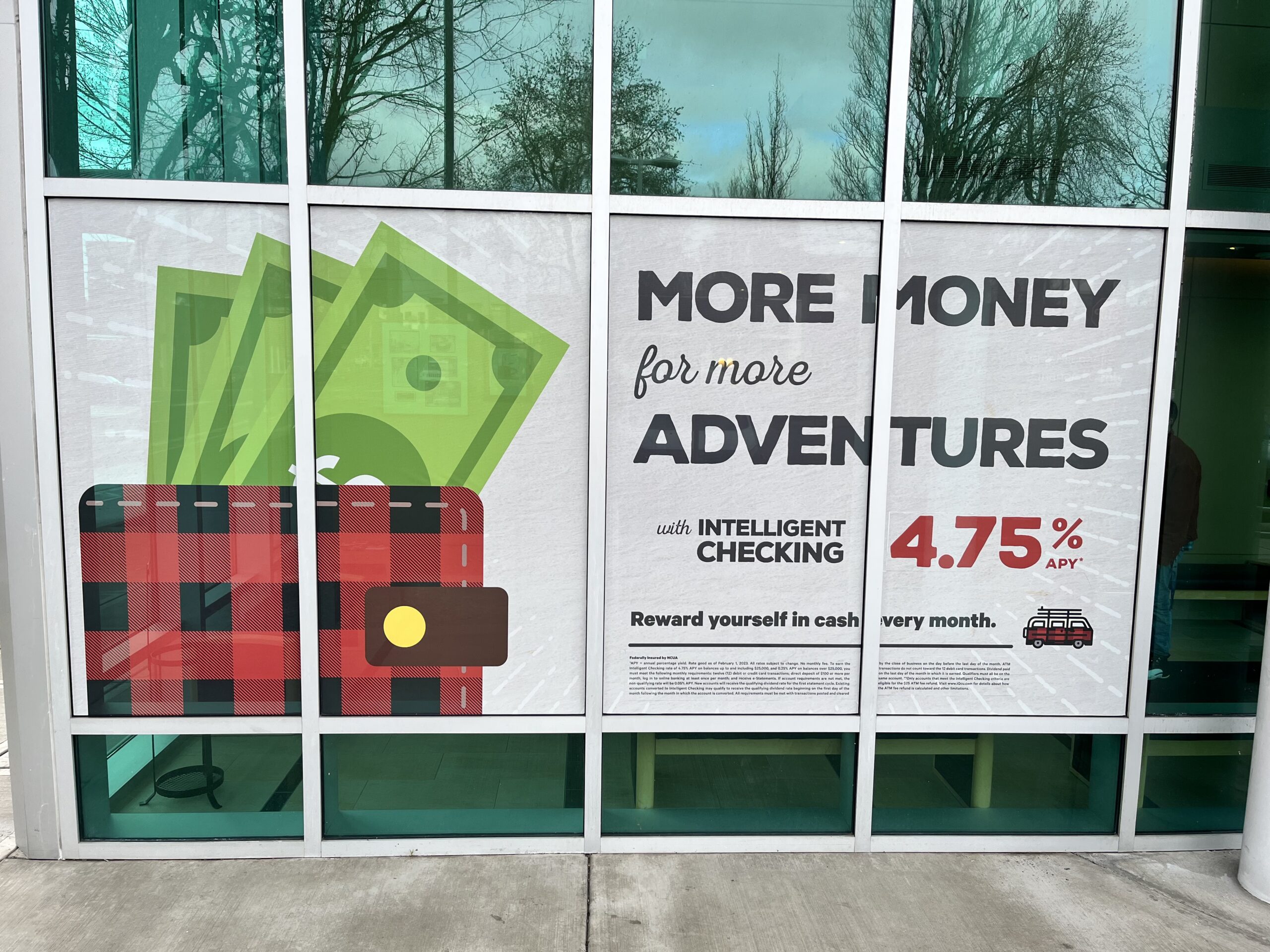 "A window graphic gives us a chance to creatively share the unique products and services we offer so members don't miss out on more opportunities to make their banking better," said Melissa Prew, Creative Manager with iQ Credit Union's Marketing Department.
They wanted to change the available interest rate without redoing the whole window each time. Was that too much to ask? Not for B&B!
"We told them that was easy as long as they give us an eighth-inch margin around the rate to swap out the rate without having to touch the other graphics," said Dressler. "They loved that idea and decided to move forward."
"With our rate changing fairly frequently, it was great to have the option of making our current rate and disclosure a separate piece so we didn't have to keep changing a full panel or the whole graphic every time the rate changed," said Prew.
The discussion with iQ began mid-January and the final installation of signage at eight branches was completed in March, along with the removal of previous window graphics that did not have the adjustable rate option. All in all, it was a swift and successful job that exceeded customer expectations.
"The weather, proof approval, and a last-minute rework delayed installation a little bit, but not much," said Dressler. "We did a good job making up ground."
Prew said working with Jay and the team at B&B is always a good experience.
"There's always amazing communication and transparency throughout the process. I'm always confident that the work will get done with quality in mind," said Prew. "And even when there's a challenge or problem, they immediately start on a fix to get us there."
In this case, the team ran into a challenge with one graphic element that represented correctly on the proof but did not output as expected during print production.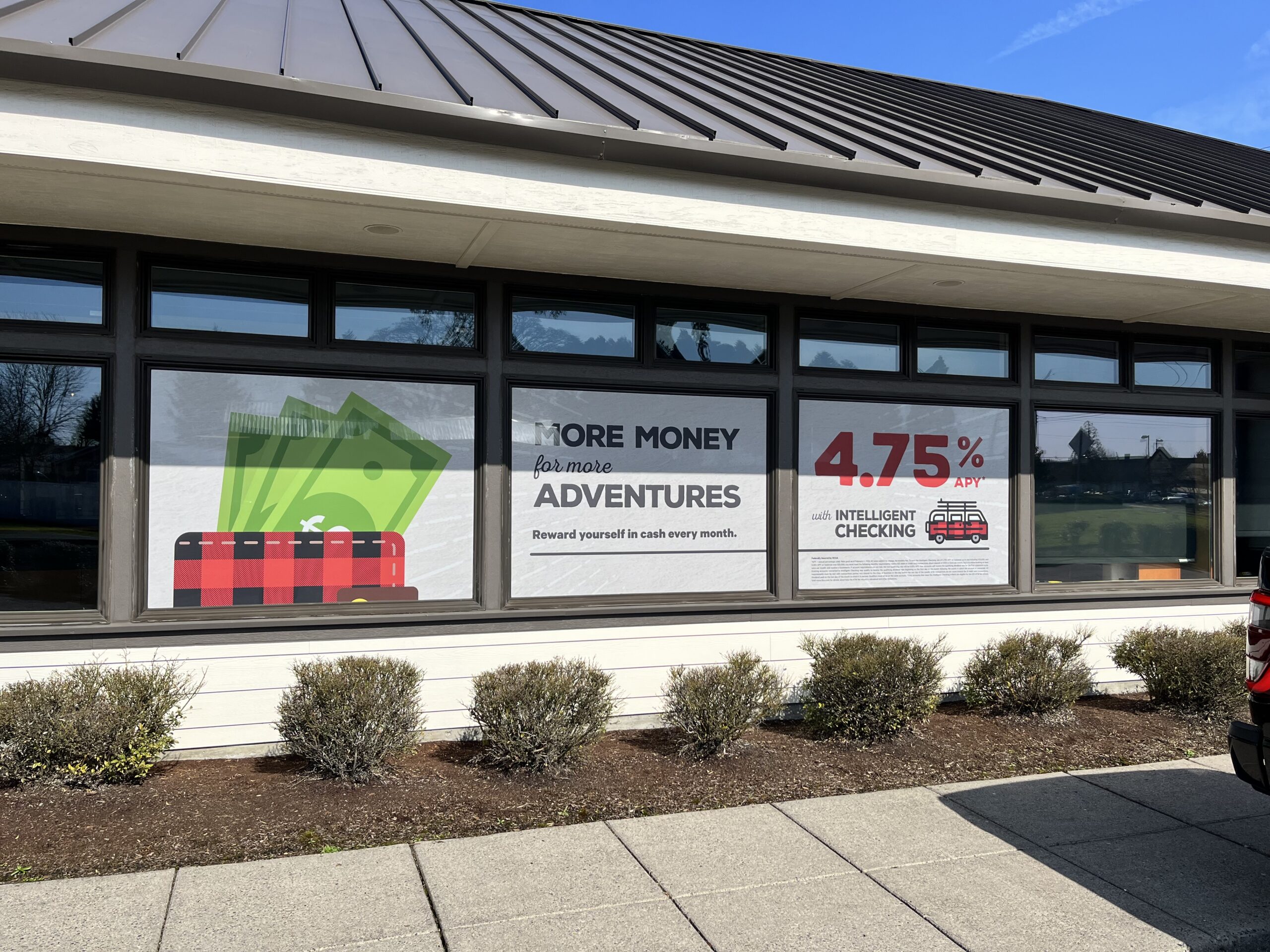 "But the service to make the change was great—there was a fast turnaround to get the quality we were hoping for. We plan to keep these up all through the summer," said Prew, sharing her endorsement of the B&B team. "I would always recommend B&B to other businesses because of their service, quality, and transparent pricing and communications."
Our new large format presses can create superb quality for a vast range of applications, including fleet graphics, outdoor lightboxes, floor graphics, framed canvases, fine art, wallpaper, and of course window graphics. Call us at 503-639-9835 or drop an email to discuss your next larger-than-life project. Feel free to take a look back at the wall murals we installed at Johnson RV that are driving new sales and revenue as well.