Sustainability Be Green
At B&B Print Source, we have made a commitment to minimize our environmental footprint. We continually assess what additional practices could be implemented to ensure a sustainable future to better our community for generations to come.
Responsible Forest Management
We are one of the few printers in the Portland area supporting the growth of responsible forest management worldwide by encouraging the use of recycled papers and substrates.
Our energy source is 100% Wind Power. Our purchase of wind power credits equal to the amount of electrical power we use in our production facility.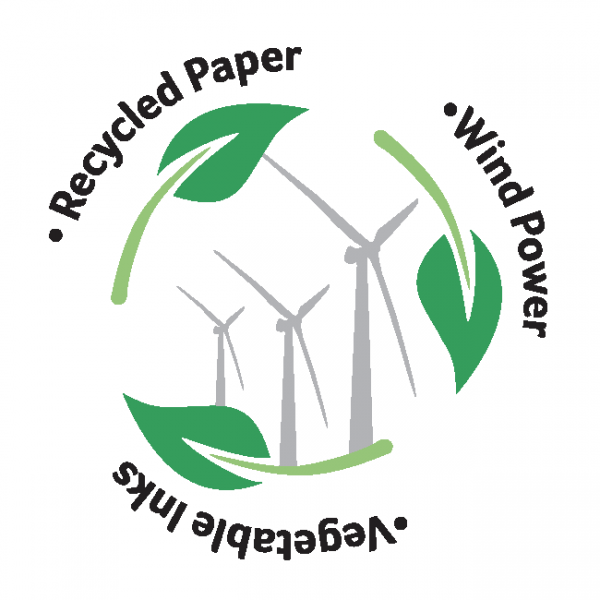 Recycled Papers
B&B encourages the use of high post-consumer content recycled papers, as well as papers from responsibly managed forests.
Committed to Recycling
In 2021 we recycled:
303.44 tons of waste paper
16.81 tons of cardboard
4.84 tons of aluminum plates
0.9 tons of plastics
All expired and unused ink is recycled too!
As a result of our ongoing efforts, B&B continues to be the recipient of the BRAG (Business Recycling Awards Group) Award.
Press Room
All of our offset process and PMS inks are vegetable-based.
The direct to plate system installed is water soluble which eliminates the need for harsh chemicals.
Our two state-of-the-art KBA 6 color plus aqueous presses use the Sentinal Ink Management System. This ensures consistency of color and reduces ink waste.
Less solvents are used in the cleaning process which minimizes the amount of paper needed.
Our multi-color presses have computer interfaced ink fountain keys getting us up to color quickly and efficiently.
Energy Efficient Building
Concurrent with our environmental policy, we strive to provide our employees with a safe and comfortable workplace, competitive wages/benefits, and well maintained quality equipment.
We have installed LED High Bay 5000K Lighting in both facilities.
We're always looking for new ways to reduce waste and help the environment. Feel free to ask us about our practices and let us know if you have any suggestions. 
Get an Estimate