A REOPENING PLAN FOR YOUR RESTAURANT  | BE SAFE
No matter what kind of business you have, it's changed. In the face of all of this uncertainty, know that B&B Print Source is here to help you. When the time is right, consider putting together a reopening plan for your restaurant.
With most of us cooking and eating at home for weeks now, one of the first things we are all looking forward to is dining at our favorite local eatery. As a restaurant owner, how do you open safely? Helping your patrons confidently return to your restaurant depends on following safety protocols and communicating them clearly.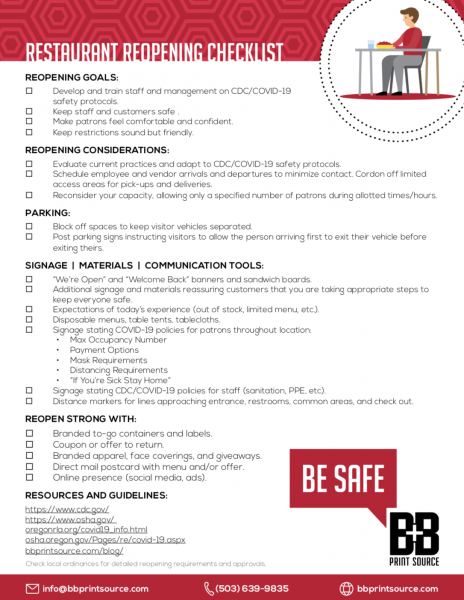 Download our restaurant reopening checklist for safety tips and ideas to help your employees and customers return safely HERE
To dive into other thoughts on reopening your restaurant, see our Rolling Reopenings and Safely blog post HERE
REOPENING RETAIL
REOPENING OFFICE/CAMPUS
#BeSafe #BeOpen