The holidays are a great time to rethink your point of sale (POS) and point of purchase (POP) displays. Use innovative ideas and creative print techniques to inspire your shoppers. Start the new year off right with some stellar POS and POP graphics to help beat those winter blues. Here are a few of our favorite trends right now in retail merchandising.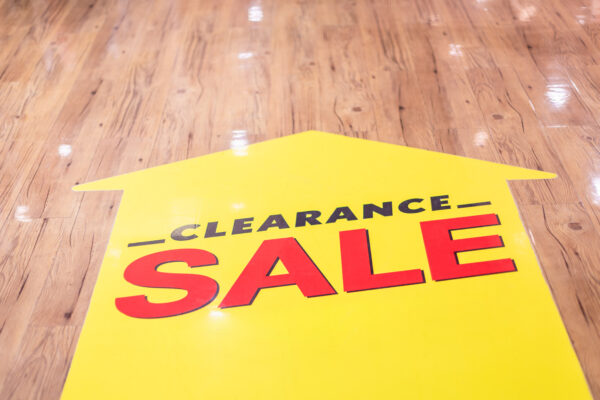 Roll out the welcome 
Make an impression as soon as your customers walk in the door with floor decals. These can serve a multi-functional purpose by pointing customers in the right direction, indicating where key departments and resources are located, and reminding customers of safety protocols, all while reinforcing your brand message. Keep your visuals fresh and seasonal with frequent changes, using fun shapes and colors to intrigue customers.  
Think outside of the box 
Speaking of shapes and sizes, have fun with your displays. Think beyond the box or rectangle to come up with unique shapes and sizes that are sure to impress. Die-cuts or folded pieces can add dimension and interest or use kinetic or moving print displays to create hanging mobiles that will shape and reshape with various messages.  
Power up the seasons
Most retail shopping is affected by the changing seasons. Your inventory changes regularly, so why shouldn't your POS and POP displays? Plan your strategy for 2022 to tap into seasonality. Some ideas include shaping your signage to look like beach toys for the summer or celebrating fun holidays with special Halloween displays in orange and black.   
Let your shelves speak
Shelf talkers are a great way to capture your shoppers' attention and keep things fresh yet affordable. Have your employees highlight their in-store favorites, feature recipes on tear-away displays that help customers better utilize the products.  
Make it shine
Print technology has advanced steadily over the past decade allowing for more fantastic special effects and finishing. Add sparkle and shine to catch the customer's eye and dazzle them instantly. Consider metallic foil accents, spot UV textures, holographic effects, embossing or debossing to create a sensation that will leave customers wanting to see and feel more.  
B&B Print Source can help you create a dynamic Point of Sale and Point of Purchase marketing plan. Contact our experts today to learn more about our capabilities.