As we enter the post-pandemic world, packaging will continue to play a crucial role in how your products connect with customers. Consumers may not be in a rush to stroll through the aisles of their favorite store just yet, and those that do may do it with a bit more haste. We may see e-commerce continue to be a driving force in brand experience for the foreseeable future, elevating the importance of branded packaging.  
With that said, who do you trust to make your packaging pop? Your products deserve the best, and we just happen to think B&B Print Source does a pretty great job of producing high-quality packaging solutions. Let's take a slight departure from our usual blog content and discuss why B&B Print Source should be on the top of your list as you work on your next packaging project.   
Trusted partner
At B&B Print Source, we don't just produce your project and move on. We want to be your trusted partner. We collaborate with you to ensure that your project is a success from start to finish. When an issue arises, we reach out with solutions, not headaches. We can talk through the process with your in-house design staff, agency partners, freelancers, even your grandma, if it helps, to see how we can make improvements and save everyone time, money, and materials. We don't just want to produce your project. We want to make it better if we can.  
Knowledgeable staff
The B&B team is ready to advise you every step of the way. As print and packaging experts, we can help with design, engineering, prototyping, security features, and material selection. We'll work to help find the best solutions that fit your budget, regulatory requirements, and increase your marketing exposure.  
Sustainable options
Presenting sustainable, environmentally friendly packaging isn't just good for the planet. It's smart business sense. A recent McKinsey study discovered that 60-70% percent of consumers said they would pay more for sustainable packaging, and 52% said they would buy more products. B&B can help improve your packaging's sustainability with suggestions like versioning, using recycled materials inside and out, and more thoughtful design to reduce overall materials usage.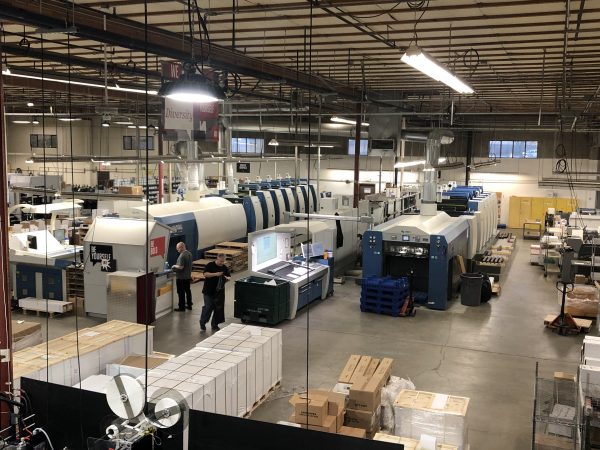 State of the art equipment
We are continually investing in your future by purchasing the most state-of-the-art print production and finishing equipment. We've added to our already stellar equipment line-up a second Koening & Bauer Rapida 105 41" six color production press and Xerox Iridesse specialty colors and metallic effects press in the past two years. 
Endless options
At B&B, we specialize in paperboard-based packaging  —  folding cartons, point of sale displays, inserts, sleeves, and other print and packaging applications. Visit our gallery to see the latest examples of our work. The possibilities are virtually endless and stop only with your imagination. Let us help you design your next project with packaging that pops! 
To learn more about what B&B Print Source can do for you, contact us today!