Smart FoodService Case Study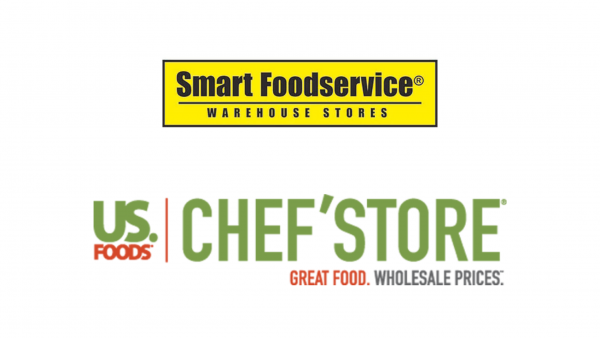 In Part I of our Anatomy of a Rebrand series, we learned that the process involved in updating a brand takes time and planning. We covered best practices for rebranding in Part II of the series — let's dive in with a real-world example from a recent B&B Print Source client, US Foods CHEF'STORE. We spoke to the sales team that navigated the experience and asked them a few questions that we thought would be helpful to share.
Client:
Smart Foodservice Stores now US Foods CHEF'STORE®
Challenge:
Last year, Smart Foodservice Warehouse Stores was acquired by US Foods, a major food distributor throughout the South and Southwest. US Food brands their stores bearing the name CHEF'STORE®. This move required a swift and efficient rebranding of all 73 Smart Foodservice retail locations. The new brand officially debuted on March 1, 2021.
Process:
B&B Print Source worked collaboratively with the Smart Foodservices' sales and marketing team for over two months. They interacted with the in-house design staff and creative agency, Polinate, to make it happen. It helped that this was not our first experience helping to rebrand with this group. The B&B team supported Smart Foodservices on a rebranding project two years before transitioning from their previous name — Cash and Carry.
"This time around, the scope of work was more extensive, but the real challenge was completing everything in a tight time frame, and we were most certainly up to the task." John Tractenberg, B&B Sales Representative.
Results:
The final project resulted in over 35 different print projects. The extensive list of products produced by B&B Print Source included:
Posters
Banners
Flyers
In-store signage
Magnets
Clings
Membership card applications
Variety of stationery items
Social distancing wayfinders and signage
Parking lot stencils
Business cards
Calendar pads
Note pads
"Rebranding is truly a collaborative effort and having knowledgeable people involved that know what they are doing who can creatively problem solve is essential," said John. When asked what advice he would give to other companies considering a rebrand, John strongly urged companies to work with a professional marketing agency and print service provider with rebranding experience.  "I am very proud of the B&B team who made this project a success. It involved nearly every member of our manufacturing staff. I also want to recognize our internal team of Sayra, Pippa, and Kerry, who did an outstanding job of meeting the requests and needs of the client."
If you're ready to start down the road to a rebrand, call B&B Print Source to learn more about our experience today!