When the COVID-19 crisis hit, business owners had no choice but to adapt and change. As a result, we all had to get creative with our marketing strategies, especially with print and graphics. One year later, let's explore some of the lessons we've learned and the opportunities as we look to the future and start to shift toward a new version of normal.
Signs, signs, everywhere there's signs
Communication has been key to combatting the coronavirus, keeping staff and customers safe, and business open and flowing. Branded graphics with a clear, concise message on how to interact safely in their business environment are a way of life for the foreseeable future. Remember to refresh these as needed for a neat, tidy appearance as business cleanliness is now a top factor in customer satisfaction and driving repeat business.
Masks are here to stay
Mask wearing will be part of our everyday lives for many months, if not longer. Don't miss the opportunity to incorporate face coverings as part of your brand or corporate uniform. It's an excellent method in which to communicate your message.
Find customers at home
Invest in a direct mail campaign that targets customers where you know they are – at home. As much as 60% of the American workforce went remote over the past year, and it's anticipated that nearly two-thirds will remain so permanently. In a recent study by the United States Postal Service of the marketers surveyed, 64% said that direct mail campaigns helped drive purchases, and 77% said direct mail resulted in website visits. That's a pretty good ROI for the mailbox compared to the hundred if not thousands of emails a person gets each year.
Rethinking habits
COVID-19 has forced us to rethink many of our past habits. Retail is one of the biggest industries to feel this impact. The desire for curbside pickup, home delivery, and online shopping options has radically shifted the retail experience. In doing so, how goods are packaged and displayed in an e-commerce setting must be considered.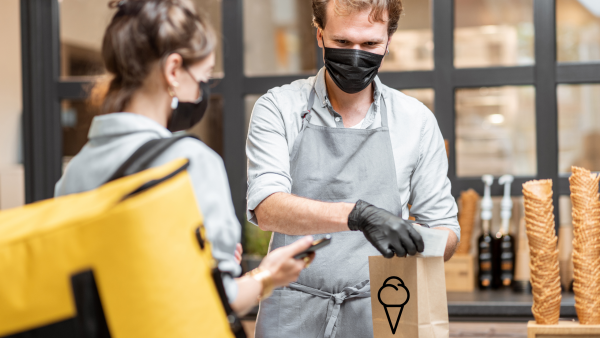 The same goes for the restaurant industry. Traditional menus are out for the time being. Anti-microbial substrates, one-time use or QR code-based menus are the norm for now. The rise and continued growth of takeout dining is a branding opportunity that shouldn't be missed. Deliver the goods in custom bags and boxes with your brand logo and inserts for future deals, coupons, and promos.
Stay creative utilizing print and graphics in your marketing strategies. Whatever your business needs may be now and into the future, the printing and packaging experts at B&B Print Source have got you covered. We're all in this together — let us be your trusted advisor to find the right solutions for your business.