B&B + Regional Arts & Culture Council Calendar – JUly 2022
B&B Print Source is proud to partner with the Regional Arts & Culture Council (RACC) to bring you a full-year calendar featuring works by renowned Pacific Northwest artists. Every page showcases a unique specialty printing process. Each month illustrates the capabilities possible using both digital and offset printing.
You can order the Northwest artist calendar absolutely free by jumping on our list HERE.
brenda mallory | Regional Arts & Culture Council (RACC) Calendar | July Featured ARTIST
Brenda Mallory's mixed-media sculptural works are comprised of a variety of materials including cloth, fibers, beeswax, and found objects.  By creating multiple forms that are joined with crude hardware that imply tenuous connections or repairs, her work addresses ideas of interference and disruption in long-established systems of nature and human cultures.
Mallory lives in Portland, Oregon but grew up in Oklahoma and is a citizen of the Cherokee Nation. She holds a BA in Linguistics & English from UCLA and a BFA from Pacific Northwest College of Art.
Title of work: to make whole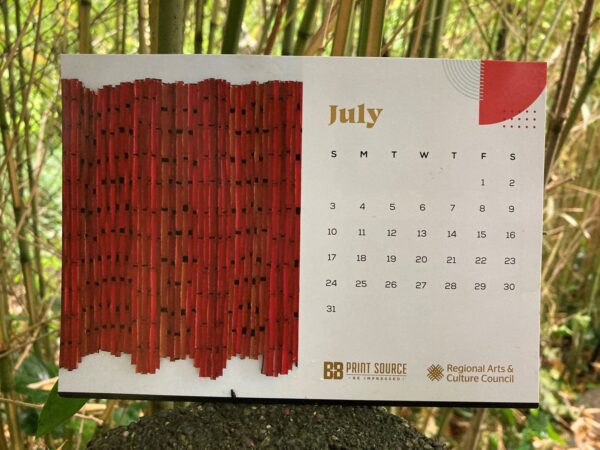 The July calendar features Brenda's work, To Make Whole, a 5.5′ x 9′ wax saturated fabric on wire structure. As mentioned above, Brenda is interested in disruption and repair. Disruptions occur at many levels—in personal lives and families, and in large systems such as human communities, cultures, or the global environment. But disruption doesn't necessarily mean destruction. Something that is damaged and subsequently repaired holds more information than in its pristine form. Sometimes it is stronger, sometimes weaker, sometimes even more beautiful, but never the same. She likes to see repairs, mends, the evidence of struggle, the healing act of pulling order from chaos.
Visit this art locally at the Multnomah County's Central Courthouse on Floor 17, or up close by viewing here.
Print details: This calendar page is printed on the Xerox Iridess Digital Press. The look was achieved using CMYK toner plus metallic gold for a shimmer and pop. The paper substrate is Neenah Classic Techweave, Solar White.
Learn more about Brenda and see more of this Northwest artist's artwork on Instagram and be sure to watch this interview.
About RACC
We connect artists and creatives to opportunity and access. An independent nonprofit organization, the Regional Arts & Culture Council supports the creative economy in greater Portland by equitably providing funding and services to artists and art organizations; managing and growing a diverse, nationally acclaimed, public art program; and developing enduring public and private partnerships. Through advocacy and engagement, we are building support for our community of artists, arts education, and arts and culture.
About B&B
Our collective talent, experience, and investment in technology allow us to produce award-winning projects year after year. Call on us for packaging solutions, direct mail, fulfillment, large format and environmental graphics, apparel, and promotional products, and integrated marketing communications plans. We focus on results and strive to exceed our customers' expectations every day.
This gorgeous Northwest artist calendar doubles as a sample packet! Request one today.