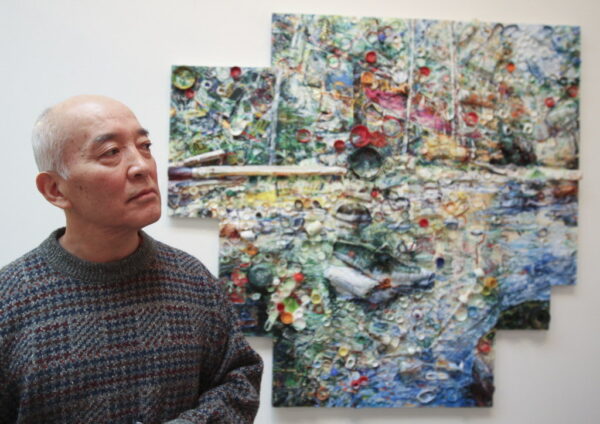 B&B + Regional Arts & Culture Council Calendar – august 2022
B&B Print Source is proud to partner with the Regional Arts & Culture Council (RACC) to bring you a full-year calendar featuring works by renowned Pacific Northwest artists. Every page showcases a unique specialty printing process. Each month illustrates the capabilities possible using both digital and offset printing.
You can order the Northwest artist calendar absolutely free by jumping on our list HERE.
robert dozono | Regional Arts & Culture Council (RACC) Calendar | august Featured ARTIST
Robert Dozono is a Portland-based artist that attempts to bring attention to what we are doing to our natural resources by using a canvas layered with what is cast aside. He takes reused objects that one cannot recycle and places them into his work—plastic items without numbers, wiper blades, rubber bands, toothpaste tubes, hair dryers, etc.
A long-time faculty member at Portland Community College, now retired, has been renowned for his instruction. He holds a BS in Art from the University of Oregon and an MFA from Pratt Institute in Brooklyn, New York.
Title of work: Welcome to the Neighborhood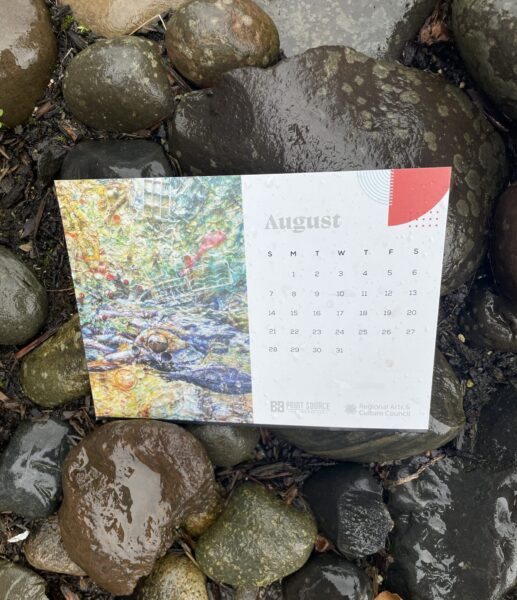 Many of Robert's paintings are large river scenes of the Clackamas River and other areas of Oregon.  The August calendar features his work, Welcome to the Neighborhood,  a large 9.6′ x 8.5′ installment that features oil and garbage on canvas.
As mentioned above, the natural environment is very important to Robert, and at one point he went nearly 30 years without regular garbage service! He grew up in a world where no one wasted anything and thinks we don't respect or take enough responsibility for our natural environment. Take a closer look at this painting and you'll see various pieces of garbage, and maybe even some items that were rescued while he was out fishing with friends.
Visit this art locally at the Multnomah County's Central Courthouse on Floor 10, or up close by viewing here.
Print details: This calendar page is printed on the Xerox Iridess Digital Press. The look was achieved using CMYK toner plus metallic silver for a shimmer and pop. The paper substrate is Neenah Classic Techweave, Solar White.
Learn more about Robert and see more of this Northwest artist's artwork on the Blackfish Gallery website. You can also enjoy learning more about him and his artwork in this interview.
About RACC
We connect artists and creatives to opportunity and access. An independent nonprofit organization, the Regional Arts & Culture Council supports the creative economy in greater Portland by equitably providing funding and services to artists and art organizations; managing and growing a diverse, nationally acclaimed, public art program; and developing enduring public and private partnerships. Through advocacy and engagement, we are building support for our community of artists, arts education, and arts and culture.
About B&B
Our collective talent, experience, and investment in technology allow us to produce award-winning projects year after year. Call on us for packaging solutions, direct mail, fulfillment, large format and environmental graphics, apparel, and promotional products, and integrated marketing communications plans. We focus on results and strive to exceed our customers' expectations every day.
This gorgeous Northwest artist calendar doubles as a sample packet! Request one today.