An estimated 60% of retailers are expanding, with the most significant growth in grocery, fast-casual eateries, and value retailers. At the same time, store square footage is shrinking. During the pandemic, many retailers pivoted to online ordering and storefront pick-up, with storefronts and restaurants offering the same great products, service, and food from a smaller space with more dedicated parking for curbside pick-up.
Smaller, more tightly curated spaces are focused on the neighborhood's needs and digital integration.
Even Levi Strauss & Co., whose online sales soared to a quarter of its total in 2020, opened 100 new stores that year and planned to open 100 more by the end of 2021. Several of these stores are considered "NextGen" and include digitally-focused features such as  "integration with the company's app, curbside pick-ups and contactless returns, and an inventory assortment that is driven by local customer data."
If you are opening a retail business in 2022, you know a seamless and profitable customer experience is essential. Which print products should you bring into the mix?
Indoor signage moves eyes and feet
Signage should be strategically placed to grab attention and drive foot traffic in a retail space. Shoppers who come in knowing exactly what they want, prefer to be efficient. It's important to have clear signage—both above and at eye level—directing them where items are. If someone becomes frustrated or confused looking for a product, they may start frequenting stores that sell similar products.  
Your store might be a smaller boutique that changes inventory frequently, and returning shoppers come in to browse and see what's new. Entice your customers with freestanding endcaps, banner stands, and shelf tags. We will help you with structural design, delivery and setup, proportions coordination, and more. We also offer "print and hold" orders for promotions with a specific launch date. Planning ahead and being flexible is critical in 2022.
Brochures tell the story of your store
Brochures are a value-add for shoppers. Clerks at popular retailers like Trader Joe's and Craft Warehouse offer you a brochure as you enter. Brochures can tell the customer what's new in stock, on sale, and seasonal. They can include product reviews, recipes, and inspiration. With on-brand design and copy that sparks conversation, store brochures are a powerful sales tool, serving as a bridge to your inventory and your online channels. There are so many ways to create a brochure that people will use. Consider including:
Coupons

Membership information

Promo codes for online specials

An incentive to tag you on social media

New hire spotlights

Vendor spotlights

Customer appreciation stories

Retail cluster walking maps pave the way for co-opetition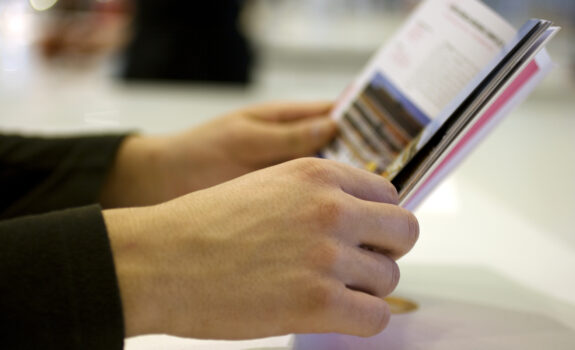 In a city like Portland, many unique retailers are in walkable hubs or town-center type clusters. If you have built community among your neighbors—or if you want to—a walking map or an illustrated list of businesses in proximity to yours can be a big draw.
A walking map can also pay for itself with advertising or create community through co-sponsorship. You can use the neighborhood version if there is one, create one for your area shopping cluster, or simply use your store's brand. 
Be sure to include coupons and specials for customers using the map, and have compelling reasons to visit your shop or website to shop when people aren't in the neighborhood. Update it regularly and develop an online version to draw people to your digital channels.
Direct mail connects the dots
Successful retailers use an omnichannel marketing approach. Components include a robust web presence, consistently excellent customer service, regular digital content, and a data-driven direct mail strategy.
Optimized direct mail campaigns will vary, depending on your brand, reach, offerings, and goals. It could be as simple as a postcard sent before an in-store event or as robust as a seasonal four-color catalog. The key is to be consistent and utilize data to personalize offers and engagement. 
Outside signage is your brand's front door
Outdoor signs are the front door to your brand. B&BPrint Source offers vinyl banners, window clings, lighted signs, wallpaper, a-frames, flags, and more. We can print on nearly anything that measures up to 1.5 inches thick, including cork, wood, metal, and plastic.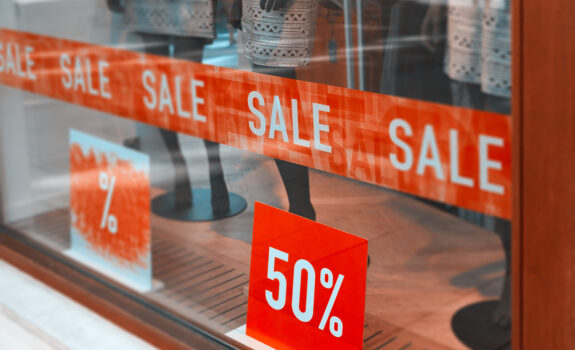 You may already have a sign with your business name, but that's only the start. You want to let passersby know precisely why they should come in and what they'll be missing if they don't. Put a QR code right on the sign or in your window to connect shoppers to your digital integrations. Consider:
"Clearance items extra 40% off through Sunday!" 

"Two-day sale on all new spring shoes!"

"Exclusive line of four-season tents!"
From traditional vinyl to cloth, we produce banners at every scale–up to building-sized advertisements. For outdoor use, we use weatherproof materials and UV inks that won't fade in the sunlight. Skilled installers on staff can help with the placement, positioning, and banner hanging. 
Whatever your store concept is, ensure a friction-free customer experience by integrating valuable printed products into your layout and marketing mix. B&B Print Source can guide you through every step of your retail launch or freshen-up. Contact us today to learn more!