Increase engagement with your customers | BE noticed
Direct mail can help you connect directly with your customers. Variable data printing allows you to customize texts, graphics, or images on your direct mail piece. Imagine sending a bright, bold postcard with your customer's name front-and-center, or images that reflect your target audience or specific to the region. This customization creates an immediate connection and makes the entire campaign customer-focused.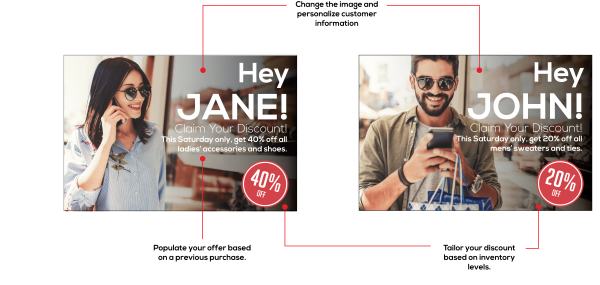 Not only is it customer-focused, but personalization helps increase your open rates and your ROI. In a 2016 study, over 84% of respondents said they were more likely to open a personalized piece of mail. While traditional direct mail has a response rate of 4.4%, personalized mail response rates range from 12-15%. Marketing services firm Epsilon found half of Americans prefer direct mail over email. According to the same study, 25% find it "more trustworthy."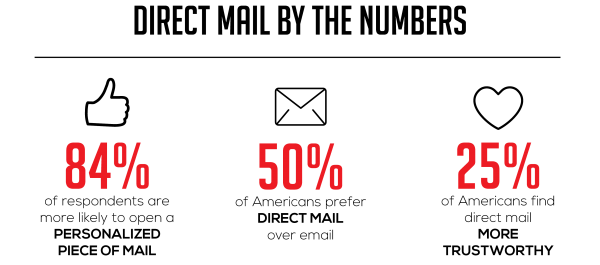 Want to increase your ROI even more? Pair your direct mail with an email. In a 2017 study, three groups were marketed the same product in three ways: one group received an email, one received direct mail, and one group received both. The revenue generated per customer was as follows:
Email group: Under $2

Direct mail group: Around $7

Email and direct mail combined: Over $7
The group that received both a direct mail piece and an email returned the most revenue for the business. Your competitors may have pulled back from direct mail in recent years. That's okay! That means the channel is less crowded, and you'll make a name for yourself before others catch wind of the benefits of VDP and direct mail.
Direct mail can be an effective part of your marketing content strategy.  Our talented staff can help you create a customized direct mail piece that is fun, unique, and will definitely catch your customer's eye. Learn more about our capabilities.