B&B Print Source is partnering again in 2023 with Portland Street Art Alliance to bring you four exclusive journals with two unique covers featuring works by Northwest outdoor artists. These notebooks are also great samples showcasing our work here at B&B Print Source! Request your journals by jumping on our list HERE.
At the end of last year, Portland muralist Devin Finley and seven regional graffiti artists completed an expansive mural titled We Are Portland. Located in Southeast Portland near the Tilikum Crossing Bridge, the mural features six large colorful portraits of Portlanders. This massive, full city block mural can be seen greeting viewers as they head into the Central Eastside Mural District.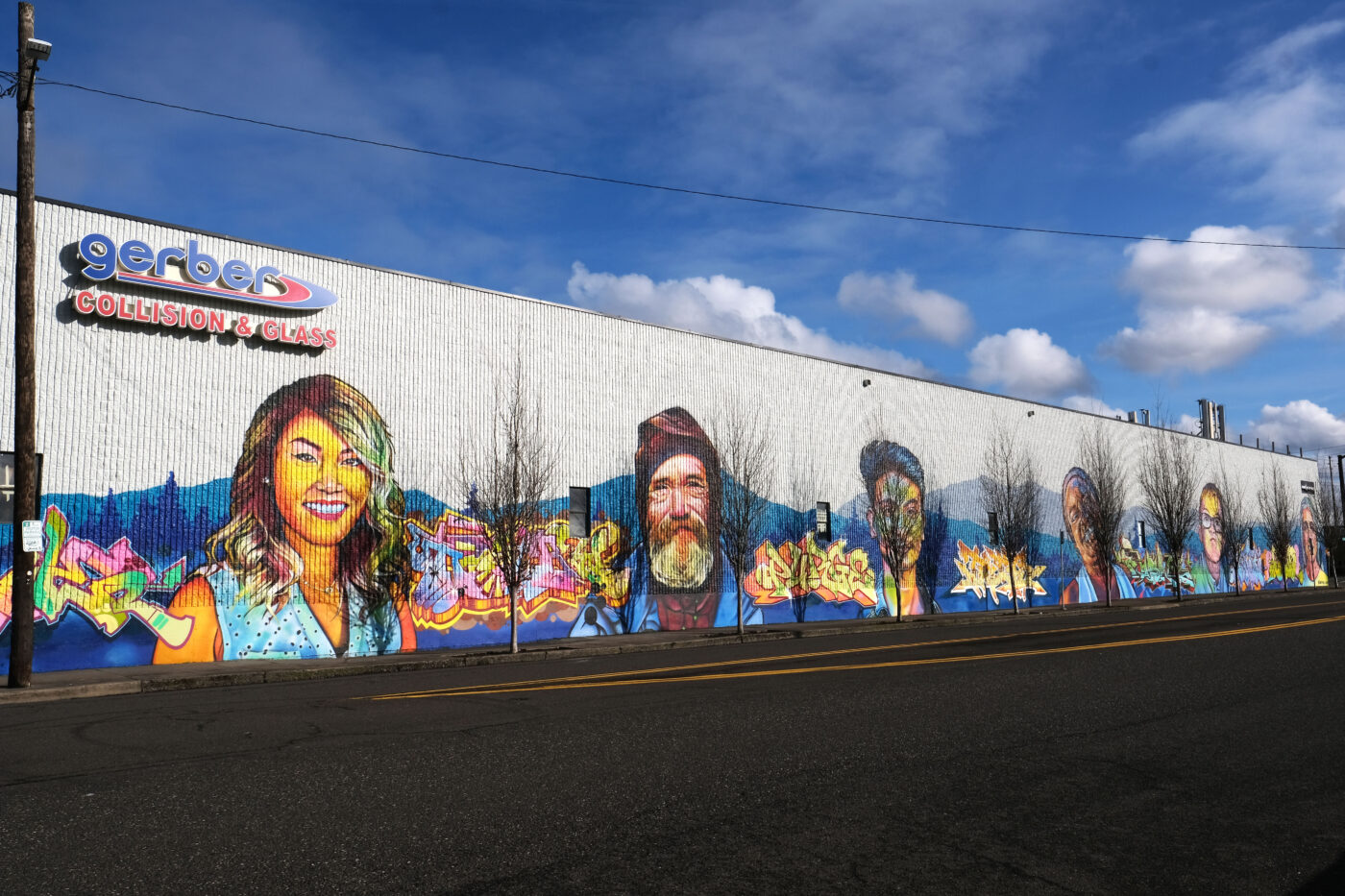 Featured prominently on the wall between each person is a stellar lineup of work by prominent Portland and California Bay Area graffiti artists. The contributing artists are Other, Nimby, Purge, Twigs, Raskoe, Norse, and Ckos.
"The mural focuses on several portraits, showing our city's diversity; LGBTQIA+, people of color, various ages and gender identities, folks who are unhoused, and people living with disabilities, said Devin Finley. "I wanted to turn away from the typical skin tones used to represent people, and experiment with an array of other colors. The additional portions of graffiti are a nod to the roots of where I acquired my skill set for this line of work." 
Learn more and see other images for this project on the PSAA website.
VISIT THE WORK
We are Portland
2227 S.E. 7th Ave.
Portland, OR, 97214
B&B Print Source in Partnership with PSAA
We created the notebook series to help share the inspirational works and stories of PSAA artists. Please use the books for simple note-taking, elaborate sketching, or both. If you create something you'd like to share, post it to our Instagram or Facebook. We'd love to see it! 
About Portland Street Art Alliance
Portland Street Art Alliance is a 501(c)3 non-profit organization that provides access to resources, networking platforms, and professional development opportunities for Pacific Northwest street artists. Founded in 2012, PSAA has managed over 100 private and publicly-funded street art projects around town. The team collaborates with hundreds of artists in the region. PSAA's mission is to actively transform the public art landscape by developing more inclusive place-based programs and increasing access to art for everyone in the city.
Pdxstreetart.org | info@pdxstreetart.org | @portlandstreetartalliance
About B&B 
Our collective talent, experience, and investment in technology allow us to produce award-winning projects year after year. Call on us for packaging solutions, direct mail, fulfillment, large format and environmental graphics, apparel, promotional products, and integrated marketing communications plans. We focus on results and strive to exceed our customers' expectations daily. 
These notebooks are also a great set of samples showcasing our work here at B&B Print Source! Request one today.