B&B Print Source, in partnership with Portland Street Art Alliance, created journals for this 2023 collaborative community project. Each journal shares different stories and visuals of eight unique installations around the Portland Metro area created by Northwest outdoor artists. Learn more on our blog. 
These notebooks are not only functional for everyday writing, sketching, or other creative endeavors but also showcase some of the print capabilities and finishing techniques available at B&B. Request your individual or set of journals HERE before they are gone.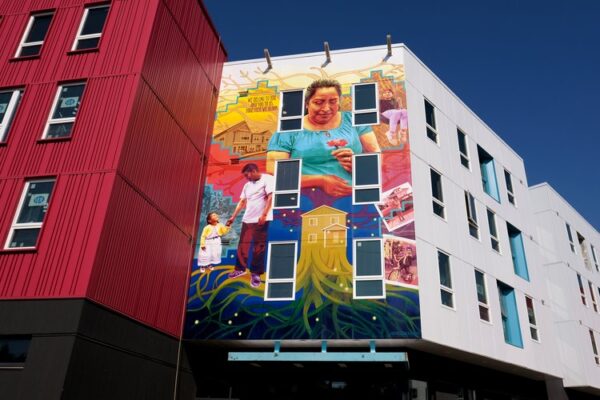 Portland has a bold new community-inspired mural in its public art collection, Together We Bloom, painted by Michelle Angela Ortiz. The mural is located at Hacienda CDC's new Las Adelitas building, a 142-unit affordable housing community in the Cully neighborhood.

Together We Bloom was directly inspired by the stories of community members from interviews Ortiz conducted with several neighborhood residents. The quote "We belong to you and you to us, together we bloom" is an excerpt from a poem created by local community member Lizet. Her elegant words encompass the overall essence of the mural.

Michelle Angela Ortiz is an artist based in Philadelphia, Penn. She is known internationally for using her art as a vehicle to represent people and communities whose histories are often lost or co-opted. Ortiz was assisted by artist Oliver Casillas, who is based in Portland and Guadalajara, Mexico.
"I am a child of immigrants, a woman of color, a mother, a product of two people that experienced extreme poverty that led them to immigrate to this country. It is within this context, that I see my work as an artist as cultural currency that I use to invest back into the communities I am connected to and to reflect what we contribute to our society. I am pleased to be in Portland to honor the people of the Cully neighborhood through this mural."
– Michelle Ángela Ortiz, Muralist
Watch the inspiring video made about Together We Bloom, and learn more about the project on the PSAA website.
VISIT THE WORK
Together We Bloom
6723 NE Killingsworth St
Portland, OR, 97218
About Portland Street Art Alliance
Portland Street Art Alliance is a 501(c)3 non-profit organization that provides access to resources, networking platforms, and professional development opportunities for Pacific Northwest street artists. Founded in 2012, PSAA has managed over 100 private and publicly-funded street art projects around town. The team collaborates with hundreds of artists in the region. PSAA's mission is to actively transform the public art landscape by developing more inclusive place-based programs and increasing access to art for everyone in the city.
Pdxstreetart.org | info@pdxstreetart.org | @portlandstreetartalliance
About B&B 
Our collective talent, experience, and investment in technology allow us to produce award-winning projects year after year. Call on us for packaging solutions, direct mail, fulfillment, large format and environmental graphics, apparel, promotional products, and integrated marketing communications plans. We focus on results and strive to exceed our customers' expectations daily. 
These notebooks serve as samples showcasing our work here at B&B Print Source! Request one today.