B&B Print Source is partnering again in 2023 with Portland Street Art Alliance to bring you four exclusive journals with two unique covers featuring works by Northwest outdoor artists. These notebooks are also great examples of our work at B&B Print Source! Request your journals by jumping on our list HERE.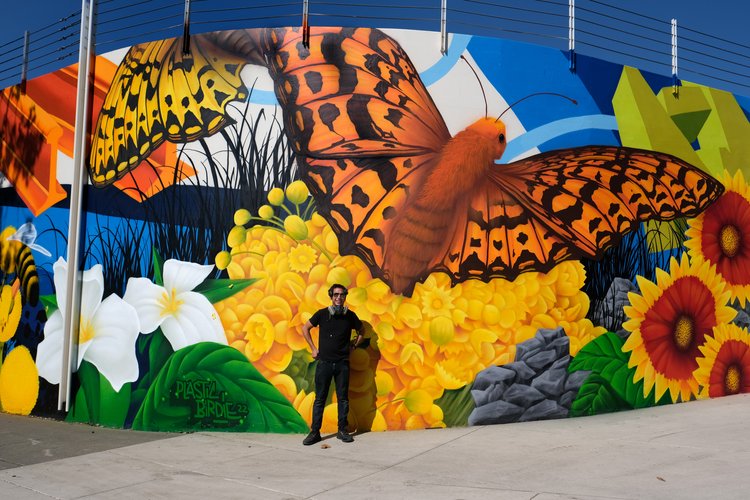 Renowned Portland muralist Jeremy Nichols has transformed Metro's parking garage with his latest work featuring various modes of transit interspersed with local flowers and pollinators. The mural wraps around two sides of the building and is dotted with wildflowers that pop between bikes and scooters as butterflies and bees flutter throughout. This mural project meets cyclists and pedestrians as they cross the newly-opened Blumenauer Bridge into the Lloyd District.
The mural is a nod to the pollination corridor that surrounds it. It depicts Trillium flowers, Douglas fir, Blanket flowers, Camas flowers, Oregon grape flowers, Western Blue Flax, and Dandelions alongside monarch and Oregon silverspot butterflies, bumble bees, honey bees, and a Rufous hummingbird.
Nichols included the signature bold lines and elements that bind his compositions together. One of the graphic elements in this work, a stylized bow tie, is a reference to Congressman Earl Blumenauer, who can always be seen wearing his trademark bicycle lapel pin and a bow tie. Other elements include a TriMet MAX line map, railroad I-beam tracks, and a silhouette of both a bicycle and an adaptive bicycle.
"I wanted to create a timeless, hip, energetic mural that grabs public attention, creates a conversation, and ultimately creates a public landmark/point of interest. Given the location of the mural, the primary focus of these designs is movement, alternative means of transit, pollinators, and a subtle nod to Earl Blumenauer," said muralist Jeremy Nichols.

Read the full story and see work-in-progress photographs at PSAA's website.
VISIT THE WORK
A Bridge to Pollinator Paradise
600 N.E. Grand Ave.
Portland, 97232
B&B Print Source in Partnership with PSAA
We created the notebook series to help share the inspirational works and stories of PSAA artists. Please use the books for simple note-taking, elaborate sketching, or both. If you create something you'd like to share, post it to our Instagram or Facebook. We'd love to see it! 
About Portland Street Art Alliance
Portland Street Art Alliance is a 501(c)3 non-profit organization that provides access to resources, networking platforms, and professional development opportunities for Pacific Northwest street artists. Founded in 2012, PSAA has managed over 100 private and publicly-funded street art projects around town. The team collaborates with hundreds of artists in the region. PSAA's mission is to actively transform the public art landscape by developing more inclusive place-based programs and increasing access to art for everyone in the city.
Pdxstreetart.org | info@pdxstreetart.org | @portlandstreetartalliance
About B&B 
Our collective talent, experience, and investment in technology allow us to produce award-winning projects year after year. Call on us for packaging solutions, direct mail, fulfillment, large format and environmental graphics, apparel, promotional products, and integrated marketing communications plans. We focus on results and strive to exceed our customers' expectations daily. 
These notebooks are also great samples showcasing our work here at B&B Print Source! Request one today.