B&B Print Source, in partnership with Portland Street Art Alliance, created journals for this 2023 collaborative community project. Each journal shares different stories and visuals of eight unique installations around the Portland Metro area created by Northwest outdoor artists. Learn more on our blog.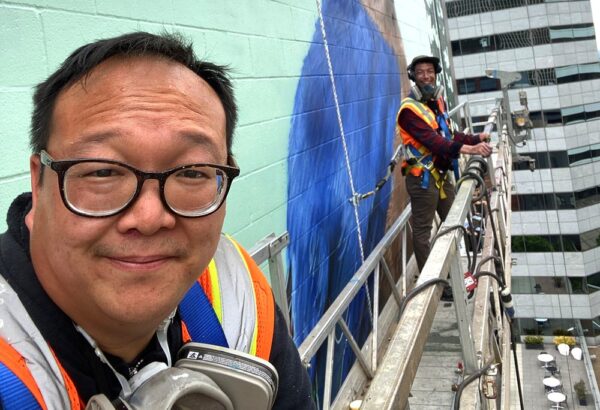 Portland muralists Alex Chiu and Jeremy Nichols took their skills to new heights—11 stories to be exact!—painting a landmark new mural in downtown Portland. Chiu and Nichols spent ten days towering above the city street on a swing stage to create this new stunning mural and Portland landmark, called Inheritance.
Located on the NW Natural Building at the corner of Southwest Second Avenue and Salmon Street, Inheritance is, to date, downtown Portland's highest mural. The massive 52' by 50' work can be seen from many vantage points around Portland.

At the base of the mural are the hands of an elder placing a bowl in the hands of a child, illustrating the passing on of knowledge and a more sustainable, nourishing and bountiful world for future generations. The bowl is a metaphorical heirloom, brimming with lively symbols of the Pacific Northwest, including ferns, Oregon Grape blossoms, a pinecone, raspberries, blackberries, and trillium flowers, all topped with a perfectly perched bluebird.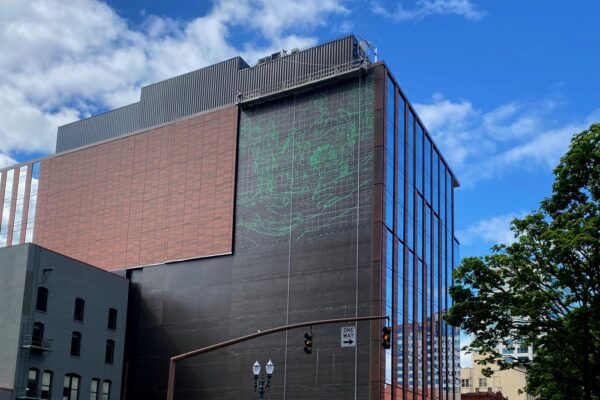 In the background of the mural, monarch butterflies flutter through the air with Douglas Fir trees framing a silhouetted Mt. Hood, symbolizing home, regional familiarity, and nature.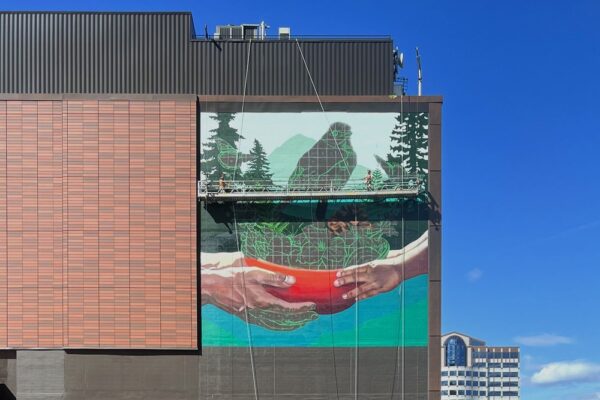 "The theme of inheritance is one that has become important to me as the father of young children, and something that I reflect upon as my parents grow older. For me, the mural is a hopeful depiction of the relationship between the older and younger generations. We become who we are because of the elders, mentors, and teachers in our lives. It eventually becomes our responsibility to pass down our legacy to the next generation. The mural is also a celebration of the beauty of life in the Pacific Northwest." – Alex Chiu
Painting the mural was an enjoyable collaboration for both muralists and the first time either has worked at that height. Read the full story and see the dizzying work-in-progress photographs on PSAA's website.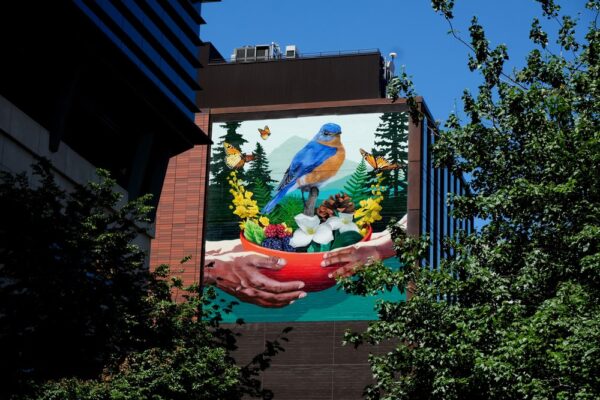 VISIT THE WORK
Inheritance
250 SW Taylor St.
Portland, OR, 97204
These notebooks are not only functional for everyday writing, sketching, or other creative endeavors, but also showcase some of the print capabilities and finishing techniques available at B&B.  Request your individual or set of journals HERE before they are gone.
About Portland Street Art Alliance
Portland Street Art Alliance is a 501(c)3 non-profit organization that provides access to resources, networking platforms, and professional development opportunities for Pacific Northwest street artists. Founded in 2012, PSAA has managed over 100 private and publicly-funded street art projects around town. The team collaborates with hundreds of artists in the region. PSAA's mission is to actively transform the public art landscape by developing more inclusive place-based programs and increasing access to art for everyone in the city.
Pdxstreetart.org | info@pdxstreetart.org | @portlandstreetartalliance
About B&B 
Our collective talent, experience, and investment in technology allow us to produce award-winning projects year after year. Call on us for packaging solutions, direct mail, fulfillment, large format and environmental graphics, apparel, promotional products, and integrated marketing communications plans. We focus on results and strive to exceed our customers' expectations daily. 
These notebooks are also great samples showcasing our work here at B&B Print Source! Request one today.