REQUEST YOUR JOURNALS
B&B Print Source is proud to partner with Portland Street Art Alliance to bring you four exclusive journals with two unique covers featuring works by Northwest outdoor artists. Half of the pages in the book are lined to inspire writing, and each of the other pages are blank canvases ready for creative sketching and doodling.
We created a journal series to help share the inspirational works and stories of PSAA artists. And we hope to encourage and inspire anyone who receives these journals to bring forth their creative visions.
Please use the books for simple note-taking, elaborate sketching, or both. If you create something you'd like to share, post it to our Instagram or Facebook. We'd love to see it. Need inspiration? Check out this fun drawing that we recently received.
CALM
| FEATURED JOURNAL ARTIST GROUP
A Step Forward Orthotics and Prosthetics Mural
This mural in the Collins View Neighborhood of Southwest Portland is meant to mirror the color, movement, and joyful activity that A Step Forward Orthotics and Prosthetics brings to their clients each day. Designed and painted by CALM Murals of Portland, the mural showcases CALM's signature upbeat style. 
CALM was also a key artist in the recently completed Salt & Straw warehouse mural that wrapped the 7,000-square-foot Central Eastside building in the art of 17 local muralists.
Sweet success!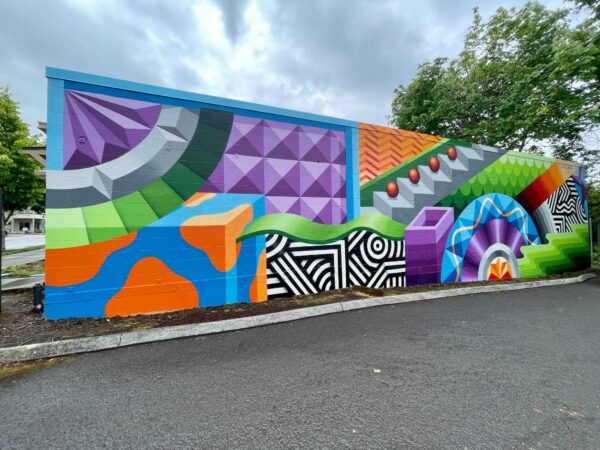 Check out some pics of the mural in progress on A Step Forward Orthotics and Prosthetics Facebook Page.
Support projects like this one and learn all about the initiative at the PSAA website.
Photographer: Portland Street Art Alliance
VISIT THE WORK
A Step Forward Orthotics and Prosthetics
8605 SW Terwilliger Blvd.
Portland, OR, 97219
ABOUT PORTLAND STREET ART ALLIANCE
Portland Street Art Alliance is a 501(c)3 non-profit organization that provides access to resources, networking platforms, and professional development opportunities for Pacific Northwest street artists. Founded in 2012, PSAA has managed over 100 private and publicly-funded street art projects around town. The team collaborates with hundreds of artists in the region. PSAA's mission is to actively transform the public art landscape by developing more inclusive place-based programs and increasing access to art for everyone in the city.
Pdxstreetart.org | info@pdxstreetart.org | @portlandstreetartalliance
ABOUT B&B 
Our collective talent, experience, and investment in technology allow us to produce award-winning projects year after year. Call on us for packaging solutions, direct mail, fulfillment, large format and environmental graphics, apparel, promotional products, and integrated marketing communications plans. We focus on results and strive to exceed our customers' expectations every day. 
These journals double as a sample of our work here at B&B Print Source! Request one today.