B&B Print Source is excited to partner again in 2023 with Portland Street Art Alliance to bring you four exclusive journals with two unique covers featuring works by Northwest outdoor artists. These notebooks are also a great set of samples showcasing our work here at B&B Print Source! Order the journals free by jumping on our list HERE.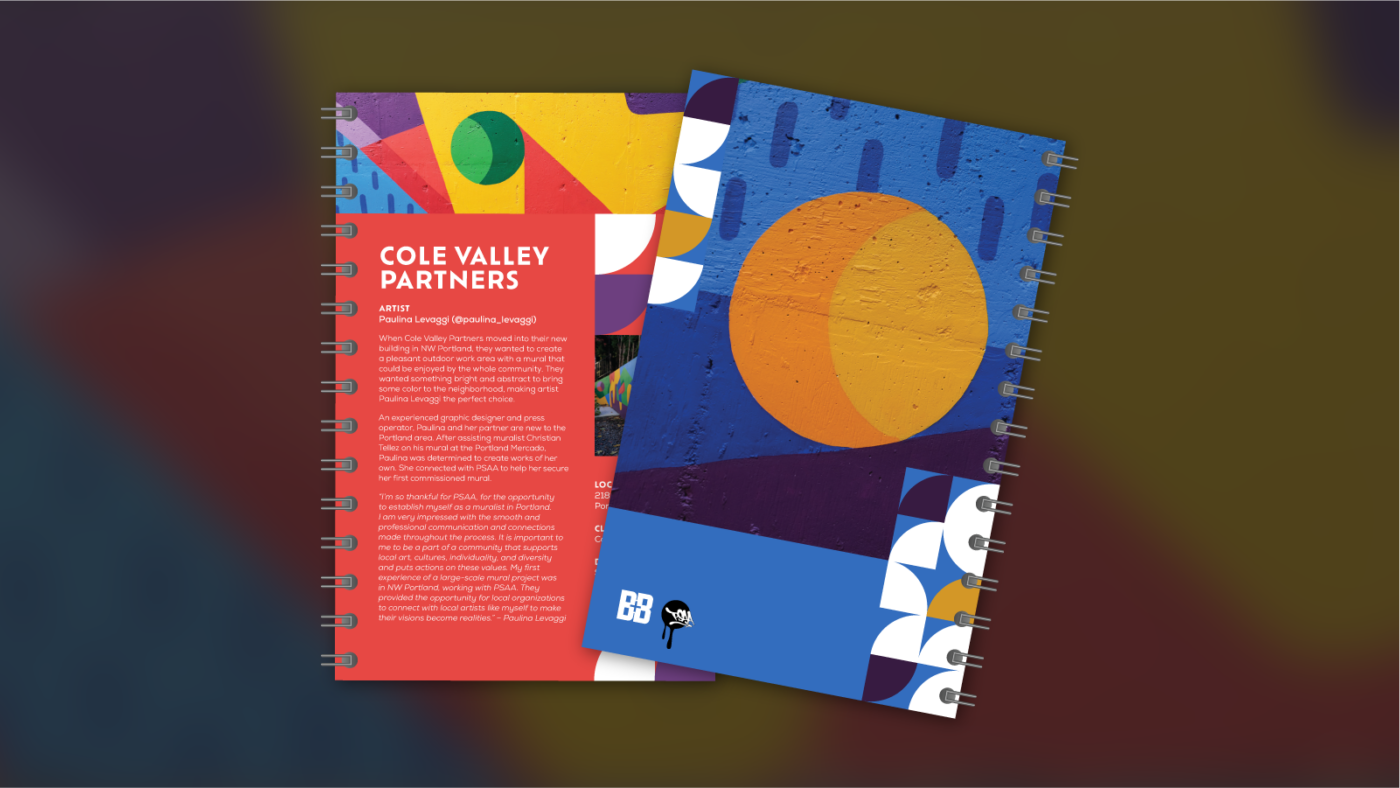 When Cole Valley Partners moved into their new Southwest Portland building, they wanted to create a pleasant outdoor work area with a mural that the whole community could enjoy. They wanted something bright and abstract to bring some color to the neighborhood, making Portland-based Uruguayan artist Paulina Levaggi the perfect choice.
An experienced graphic designer and press operator, Paulina and her partner are newer to the Portland area. After assisting muralist Christian Tellez on his mural at the Portland Mercado, Paulina was determined to create more works of her own. She connected with PSAA to help her secure her first commissioned mural.
"I'm so thankful for PSAA for the opportunity to establish myself as a muralist in Portland. I am very impressed with the smooth and professional communication and connections made throughout the process. It is important to me to be a part of a community that supports local art, cultures, individuality, and diversity and puts actions on these values," she said.
Paulina wrote in an Instagram post about the special connection her project made between Uruguay and her new home in Portland. 
"Last month I painted my first mural in Portland; it was two blocks away from my first apartment in this city so it felt special and in some way an establishment. It felt magical when I learned that the owner of the place was very familiar with Uruguay and had visited multiple times, and that is not very common to find here. I loved leaving my art on this wall."
VISIT THE WORK
Cole Valley Partners Mural
2188 SW Park Place
Portland, OR, 97205
B&B Print Source in Partnership with PSAA
We created the notebook series to help share the inspirational works and stories of PSAA artists. And we hope to encourage and inspire anyone who receives these notebooks to bring forth their creative visions.
Please use the books for simple note-taking, elaborate sketching, or both. If you create something you'd like to share, post it to our Instagram or Facebook. We'd love to see it. 
About Portland Street Art Alliance
Portland Street Art Alliance is a 501(c)3 non-profit organization that provides access to resources, networking platforms, and professional development opportunities for Pacific Northwest street artists. Founded in 2012, PSAA has managed over 100 private and publicly-funded street art projects around town. The team collaborates with hundreds of artists in the region. PSAA's mission is to actively transform the public art landscape by developing more inclusive place-based programs and increasing access to art for everyone in the city.
Pdxstreetart.org | info@pdxstreetart.org | @portlandstreetartalliance
About B&B 
Our collective talent, experience, and investment in technology allow us to produce award-winning projects year after year. Call on us for packaging solutions, direct mail, fulfillment, large format and environmental graphics, apparel, promotional products, and integrated marketing communications plans. We focus on results, and we strive to exceed our customers' expectations every day. 
These notebooks are also a great set of samples showcasing our work here at B&B Print Source! Request one today.