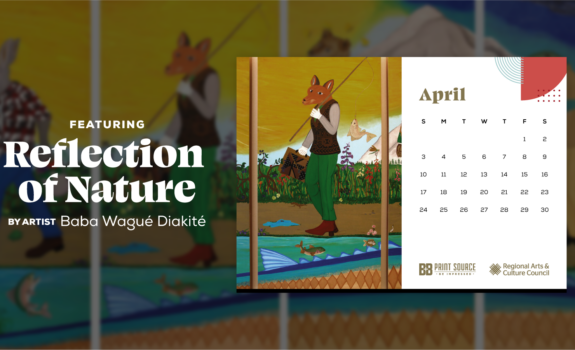 B&B + Regional Arts & Culture Council (RACC) Calendar – April 2022
B&B Print Source is proud to partner with the Regional Arts & Culture Council (RACC) to bring you a full-year calendar featuring works by renowned Pacific Northwest artists. Every page showcases a unique specialty printing process, illustrating the capabilities possible in digital and offset printing.
You can order the Northwest artist calendar absolutely free by jumping on our list HERE.
BABA WAGUÉ DIAKITÉ | Regional Arts & Culture Council (RACC) Calendar | APRIL Featured ARTIST
Originally from Mali in West Africa, Baba Wagué Diákité is an artist, author, illustrator, storyteller, and founder of the Ko-Falen Cultural Center. Baba Wagué Diakité was born in 1961 in Bamako, Mali in West Africa.  His mother gave him her father's name "Wagué", which means "A Man of Trust".  He moved to Portland, Oregon in 1985.
Wagué is the founder and director of the Ko-Falen Cultural Center in Bamako, Mali, which enables artists and travelers from other countries to live, meet, study and collaborate with artists of Mali.  The Ko-Falen Cultural Center encourages cross-cultural exchanges through art, dance, music, and ceremony to promote a greater understanding and respect between people; and manages education programs for the youth of artisans in Mali.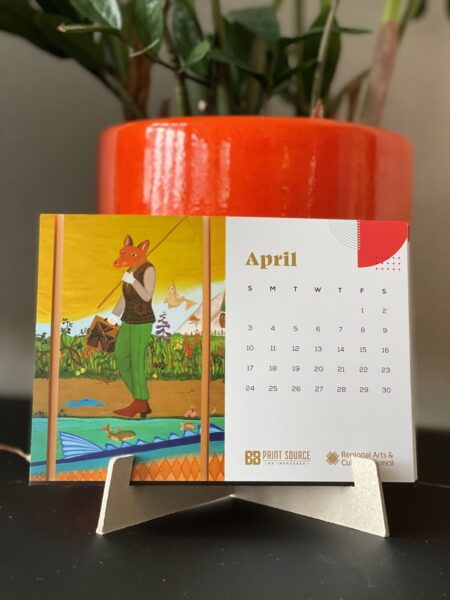 Friendly "citizen creatures" in business and casual clothes walkthrough Oregon's natural landscape. These change from gray rain to yellow sunny skies, moving through the seasons of Oregon. Below, an ever-present 20-foot long sturgeon fish swims the Willamette River. This mural is about nature speaking to us, allowing humans to hear its voices and to find common ground so that we all can be at peace as one.
Visit this art locally at the Multnomah County's Central Courthouse on Floor 15. Comprised of six panels, "Reflection of Nature" is 8 feet tall and 25 feet wide. We personally think the fox is rather dapper, but the owl, rabbit, and deer panels are equally impressive.
Print details: This calendar page is printed on the Xerox Iridess Digital Press. The look was achieved using CMYK process plus gold toner for a metallic pop. The paper substrate is Neenah Classic Techweave, Solar White.
About RACC
We connect artists and creatives to opportunity and access. An independent nonprofit organization, the Regional Arts & Culture Council supports the creative economy in greater Portland by equitably providing funding and services to artists and art organizations; managing and growing a diverse, nationally acclaimed, public art program; and developing enduring public and private partnerships. Through advocacy and engagement, we are building support for our community of artists, arts education, and arts and culture.
About B&B
Our collective talent, experience, and investment in technology allow us to produce award-winning projects year after year. Call on us for packaging solutions, direct mail, fulfillment, large format and environmental graphics, apparel and promotional products, and integrated marketing communications plans. We focus on results and strive to exceed our customers' expectations every day.
This gorgeous Northwest artist calendar doubles as a sample packet! Request one today.