Happy April – we hope that you have been enjoying the longer days and subtle signs of spring with buds and blooms abound! Need to add more color to your life?? You can add some color to your desk with our 2023 calendar – if you haven't already received a copy, we encourage you to request one today. Then get IN and play and be sure to support Portland arts and culture all year. We invite you to join us as we learn more about the Oregon Ballet Theatre this month.
OREGON BALLET THEATRE | B&B Calendar APRIL Featured organization
Oregon Ballet Theatre is committed to sharing their passion for the expressive power of ballet, inspiring an enduring appreciation of dance, and connecting in meaningful ways to our community through excellence in performance, training, and educational programs.
Located in Portland's South Waterfront district, OBT is the largest professional ballet company in the state, employing nearly 200 people and attracting artists from around the globe. In addition to their five-show main stage season, they also train dancers at the Oregon Ballet Theatre School.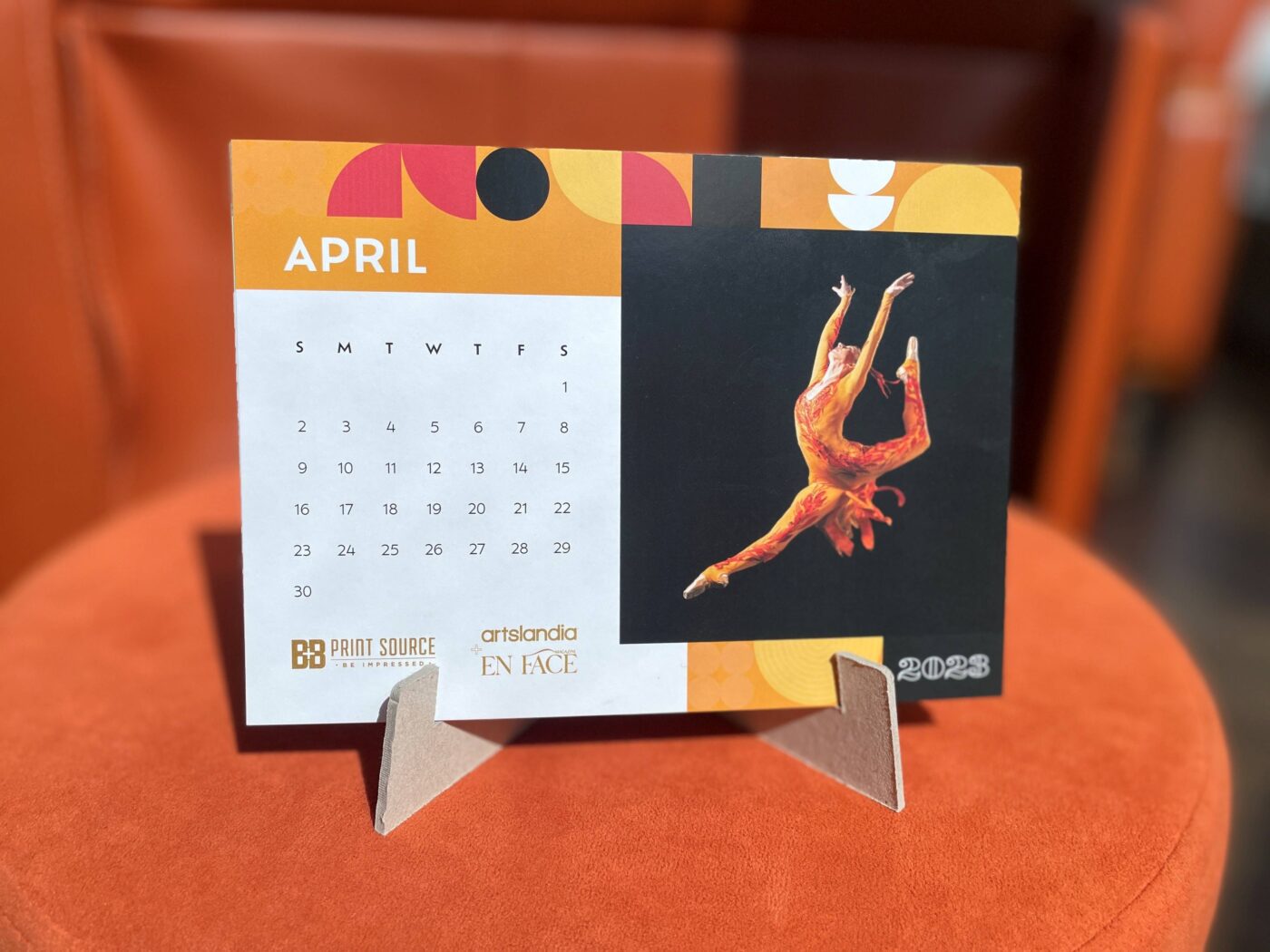 Featured on the April calendar is Jessica Lind performing in Firebird, which runs April 7-15, 2023, at the Newmark Theatre. After 15 years, OBT is thrilled to return its highly acclaimed commission of Yuri Possokhov's Firebird to the stage. Based on the treasured Russian folktale of young Prince Ivan, his two loves, and a sorcerer whose evil spell must be undone, Possokhov's Firebird is visually and musically arresting — a delight for audiences of all ages.
Watch the promotional video and get tickets here.
Print details: This calendar page is printed on the Xerox Iridess Digital Press using CMYK process plus special clear and gold toners on Pacesetter silk cover.
Add some color to your desk and request your free calendar HERE.
About artslandia
Artslandia is a diverse family of media, including a variety of Artslandia titles, performing arts playbills, custom publishing services, new media options, and sponsorships. Our print publications boast a circulation of more than 800,000 issues annually with a readership of 1.5 million. Artslandia's mission is to celebrate and elevate the arts through the confluence of human connection. Learn more and follow them on Instagram.
About B&B 
B&B Print Source is a full-service Portland-area commercial printer, specializing in signage and large format projects, promotional items and corporate apparel, direct mail, and high-quality packaging that pops. Our collective talent, experience, and investment in technology allow us to produce award-winning projects year after year. We focus on results, and we strive to exceed our customers' expectations every day.