B&B Print Source is proud to partner with Portland Street Art Alliance to bring you four exclusive journals with two unique covers featuring works by Northwest outdoor artists. Half of the book is lined to inspire writing, and the other half of the pages are blank for sketching and doodling.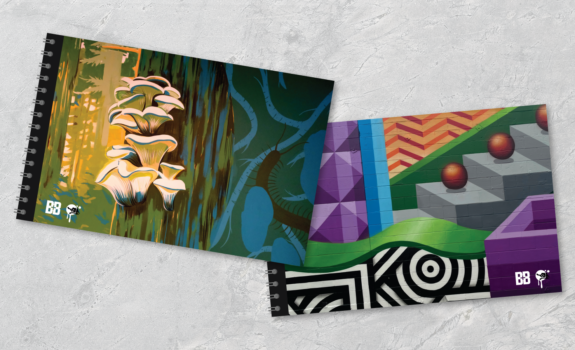 We created a journal series to help share the inspirational works and stories of PSAA artists. And, we hope to encourage and inspire anyone who receives these journals to bring forth their creative visions.
Please use the books for simple note-taking, elaborate sketching, or both. If you create something you'd like to share, post it to our Instagram. We'd love to see it.
Most big ideas begin by putting pencil or ink to paper. Let B&B help bring your creativity to the printed page for the world to enjoy. Active your left and right brain simply by flipping the journal.
Jessilyn Brinkerhoff
| FEATURED ARTIST
PAE Living Building Mural
Portland Street Art Alliance worked with PAE Engineers to produce a mural for each level of their new headquarters in the PAE Living Building. Each floor depicts a different Oregon Ecosystem. Eugene-based artist Jessilyn Brinkerhoff spent a year completing regional research and site visits to craft a distinct look for each
ecosystem. Both an experienced graphic designer and muralist, Jessilyn combined her skill sets to create these graphically compelling and visually stunning murals.
Photographer: Portland Street Art Alliance
VISIT THE WORK
151 SW First Ave.
Portland, OR 97204
About Portland Street Art Alliance
Portland Street Art Alliance is a 501(c)3 non-profit organization that provides access to resources, networking platforms, and professional development opportunities for Pacific Northwest street artists. Founded in 2012, PSAA has managed over 100 private and publicly-funded street art projects around town. The team collaborates with hundreds of artists in the region. PSAA's mission is to actively transform the public art landscape by developing more inclusive place-based programs and increasing access to art for everyone in the city.
Pdxstreetart.org | info@pdxstreetart.org | @portlandstreetartalliance
About B&B 
Our collective talent, experience, and investment in technology allow us to produce award-winning projects year after year. Call on us for packaging solutions, direct mail, fulfillment, large format, and environmental graphics, apparel, promotional products, and integrated marketing communications plans. We focus on results, and we strive to exceed our customers' expectations every day. 
These journals double as a sample of our work here at B&B Print Source! Request one today.