Produce row mural |
June Featured Artist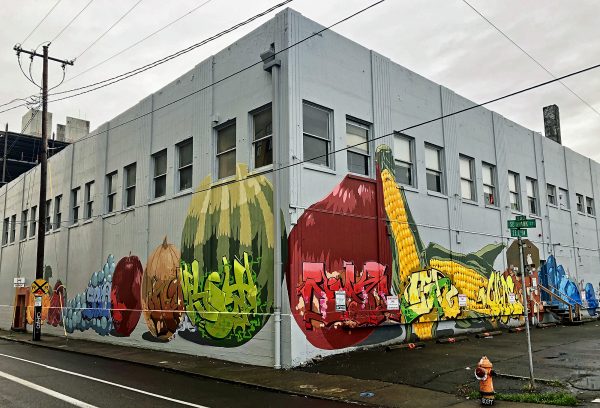 STreet art calendar
This month's street art calendar feature is located off Stark street in Southeast Portland.
TAG & WIN

Take a bite out of life by snapping a selfie and tagging @PortlandStreetArtAlliance, @BBPrintsource and @mostlikelysuspects. A gift card could be yours. Deadline to enter is June 30th, 2020.
ABOUT THIS STREET ART
In an experimental blending styles, PSAA coordinated this fruitful mural collaboration between two major Portland-based crews; MLS and 4SK. Historically, the "Produce Row" corridor of the Central Eastside was a hub for Willamette Valley fruit and vegetable storage and commerce, with large produce warehouses located in this unique industrial sanctuary.
Go visit the live work:
125 SE Stark St in Portland
MLS; NIMBY, ZAE, CKOS, UGH @mostlikelysuspects
Photographer: Chris Christian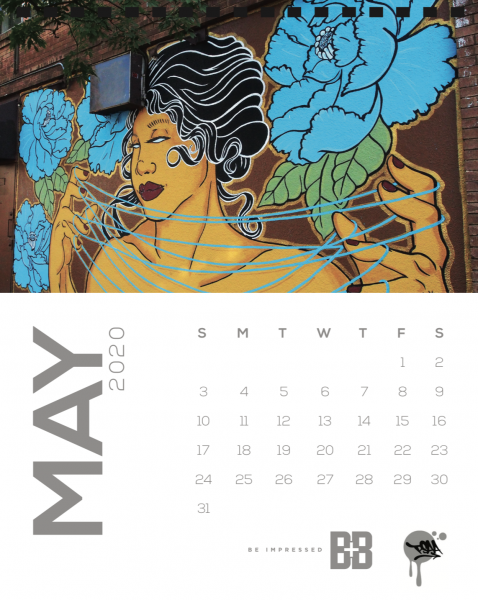 Congratulations to Peg @peg.mac.5 who takes home the May selfie prize for their post featuring our calendar and last months art,  Oregon Theater Murals.
About Portland Street Art
Portland Street Art Alliance is a 501(c)3 non-profit organization that provides access to resources, networking platforms, and professional development opportunities for Pacific Northwest street artists. Since its founding in 2012, PSAA has managed over 100 private and publicly-funded street art projects, collaborating with hundreds of artists in the region. PSAA's mission is to actively transform the public art landscape by developing more inclusive place-based programs and increasing access to art for everyone in the city.