B&B Print Source is proud to partner with Portland Street Art Alliance to bring you four exclusive journals with two unique covers featuring murals throughout the Portland area by Northwest outdoor artists. Half of the notebook has lined sheets to inspire writing. The other half of the pages are blank for sketching and doodling. 
Order the journals absolutely free by jumping on our list HERE.
We created a notebook series to help share the inspirational works and stories of PSAA artists. And we hope to encourage and inspire anyone who receives these notebooks to bring forth their creative visions.
Please use the books for simple note-taking, elaborate sketching, or both. If you create something you'd like to share, post it to our Instagram or Facebook. We'd love to see it. Need some inspiration? Check out some of the fun drawings that we've already received on social.
JEREMY NICHOLS, DAN LEE AND DEVIN FINLEY | FEATURED Artists | CENTRAL EASTSIDE history MURAL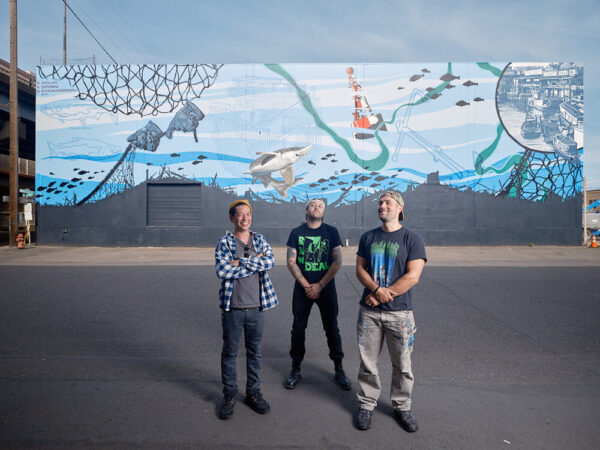 PSAA worked with three lead artists, Jeremy Nichols, Dan Lee, and Devin Finley, and nearly 20 local graffiti artists to paint a massive 12,000-square-foot mural. The final work is dedicated to the nautical history of Portland's Central Eastside Industrial District.
Excerpted from the Portland Street Art Alliance website:
"This colossal new mural was a partnership between PSAA and the Central Eastside Industrial Council (CEIC), the neighborhood business association, with significant grants from Prosper Portland and the Oregon Arts Commission. CEIC secured a grant from Prosper Portland and contracted with PSAA for assistance managing and implementing this mural project. CEIC is also donating all of their staff time to support this district beautification and improvement project.
The property has been subject to intense vandalism for decades and the property and business owners were unable to keep up with the ongoing maintenance needs. Instead of constantly painting over tagging, they wanted to try a new and more sustainable approach: an investment in the arts.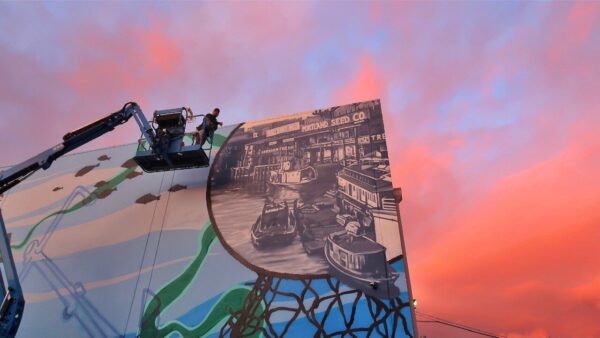 The mural design honors the history of the Central Eastside Industrial District and this stretch of the Willamette River. Specifically, the industrial and maritime history as a hub for shipping and commerce in the late 1800s. Included will be historic views of the Willamette River during the early industrial boom, spawning Chinook and Coho Salmon, flowing wapato, fishing nets, wooden ship hulls, buoys, anchors, and fishing piers. "
For more on the fascinating history behind this mural and the collaborations that brought it to life, read the story on PSAA's website.
VISIT THE WORK
Central Eastside History Mural
211 S.E. Yamhill St.
Portland, OR, 97214
About Portland Street Art Alliance
Portland Street Art Alliance is a 501(c)3 non-profit organization that provides access to resources, networking platforms, and professional development opportunities for Pacific Northwest street artists. Founded in 2012, PSAA has managed over 100 private and publicly-funded street art projects around town. The team collaborates with hundreds of artists in the region. PSAA's mission is to actively transform the public art landscape by developing more inclusive place-based programs and increasing access to art for everyone in the city.
Pdxstreetart.org | info@pdxstreetart.org | @portlandstreetartalliance
About B&B 
Our collective talent, experience, and investment in technology allow us to produce award-winning projects year after year. Call on us for packaging solutions, direct mail, fulfillment, large format and environmental graphics, apparel, promotional products, and integrated marketing communications plans. We focus on results, and we strive to exceed our customers' expectations every day.
These notebooks double as a sample of our work here at B&B Print Source! Request one today.