Did you know that the United States Postal Service (USPS) wants you to save money? You may be missing out on considerable savings when creating a campaign! USPS has a wide array of discounts available for organizations that engage their audiences via direct mail. The ability to reach your targeted audiences continues to be essential for businesses to thrive. As illustrated by the recent outage of Facebook and Instagram, relying solely on social media can prove to be challenging. 
If you're relatively new to direct mail, we recommend that you start with the basics with the USPS Beginners Guide to Direct Mail.  Each USPS discount has a unique period of registration and promotion. If you don't already have one, you'll need to create a log-in for the USPS Business Gateway. Once you've logged into the webpage, you'll navigate to Mailing Services > Incentive Programs. You'll want to select which is right for your company and begin the enrollment process. Not sure which USPS program is the best fit for your business? Let's take a look. 
Earned Value
If your direct mail campaign includes a customer response or return item, this is the discount for you! Earned Value is a $0.02 rebate per mail piece for mailers that use Business Reply Mail (BRM), Courtesy Reply Mail (CRM), and Share Mail envelopes and cards. The per piece credits are applied for qualified First-Class and Marketing Mail letters & flats. Please note that you won't find Earned Value under the USPS promotions in the gateway. To learn more about Earned Value and how to enroll, click here.
Sensory, Tactile, and Innovation
Create a sensation with your direct mail and earn 2%! Engage with your audience through the innovative use of specialty inks like metallics, sensory aspects, textures, and papers.  This discount also applies to the creative use of folds or other elements that create an interactive dimension to your piece. 
Emerging and Advanced Technology
Print is more than just ink on paper. In today's digital age, you can create a truly remarkable experience through the use of technological enhancements like augmented reality, Near Field Communications, Video in Print, and employing Voice Assistants (i.e., Apple's Siri, Amazon Alexa, Google Now, etc.).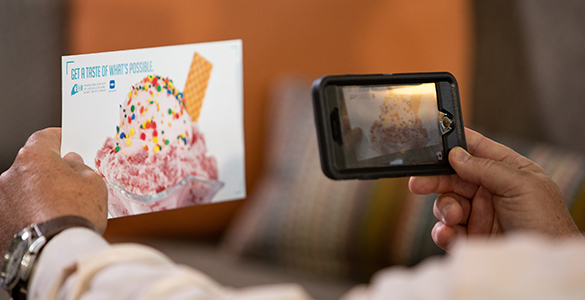 Mobile Shopping 
Marrying the digital shopping experience with print is a match made in heaven. Engage your online customers through the use of direct mail with mobile integration technology like QR codes. Your campaign must include the use of technology that a recipient can activate through a mobile device to complete the shopping experience. 
Informed Delivery
Informed Delivery is a nearer marvel from the USPS that allows customers to see their mail even before it reaches their mailboxes. Utilizing Informed Delivery gets your message to your customers faster and offers further clickable interaction with their mail directly from their e-mail inbox. USPS has streamlined the Informed Delivery promotions this year with simpler submission requirements and other helpful improvements. Listen to a webinar about how you can make Informed Delivery work for your brand, go here.
Navigating the USPS promotions requirements and deadlines can be daunting. B&B Print Source is here to help. We've created this handy sheet to help you stay on top of what promotions are available when. As always, we can help you find the right direct mail solution for your business without missing out on discounts. Give us a call today to get started.