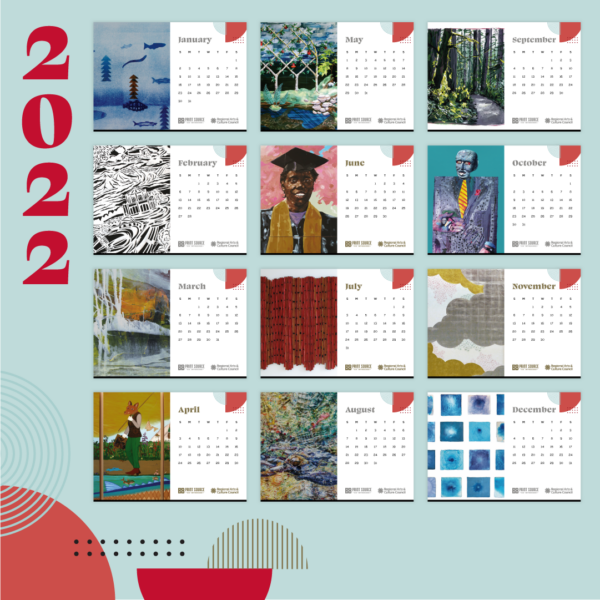 B&B + Regional Arts & Culture Council Northwest Artist Calendar – March 2022
In 2022, B&B Print Source is proud to partner with the Regional Arts & Culture Council (RACC) to bring you a full-year calendar. Each month features works by renowned Pacific Northwest artists. Every page showcases a unique specialty printing process to illustrate the capabilities possible in digital and offset printing.
You can order the Northwest artist calendar absolutely free by jumping on our list HERE.
JAMES LAVADOUR | Regional Arts & Culture Council Calendar | March Featured ARTIST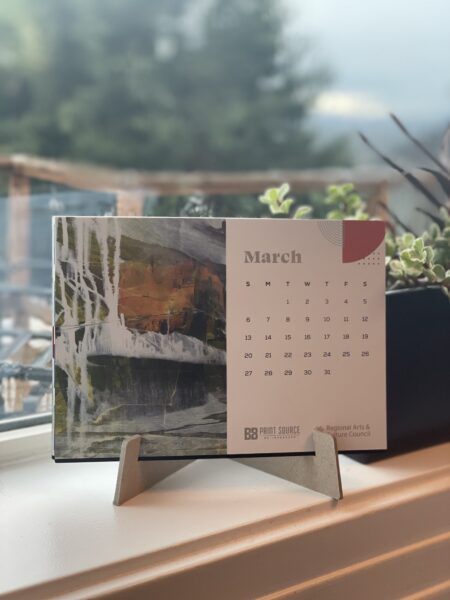 James Lavadour's work is deeply rooted in the landscapes of eastern Oregon. He grew up in the foothills of the Blue Mountains on the Umatilla Reservation near Pendleton, Oregon. An avid hiker, Lavadour's connection to this geography is reflected in the slow and labor-intensive processes he undertakes in his daily painting practice.
Every morning James walks to the studio before sunrise. Years ago, on that walk, a meteorite streaked overhead and lit everything that day. It was a terrifying and wonderful moment. Painting is the same experience. Everything that is in the land is in me, hiking and observing all around me. There are rivers and mountains in paint. As in the music of Miles Davis and John Coltrane, the painting of the Chinese literati and the work of the Abstract Expressionists, improvisation is the spark for my inquiry.
Paint becomes a vehicle to mimic the gradual layering and subsequent erosion, exposing the trace of previous vestiges of color. Lavadour favors translucent glazes, which leave hints of each preceding layer, creating tremendous depth and luminosity through these topographical surfaces. Often juxtaposing vivid color with subdued passages, each painting strikes a balance between serenity and optical vibration.
Lavadour has been making artwork and exhibiting for more than four decades. In 1992, Lavadour and friends founded Crow's Shadow Institute of the Arts, with the idea of using art as a transformative tool within the Native American community.
Title of work: River Miles
Learn more about James and see more of his amazing work in this online gallery. If you're ever in Eastern Oregon, be sure to visit the Crow's Shadow Institute of the Arts, located in the historic schoolhouse at Saint Andrew's Mission, 10 miles from downtown Pendleton.
About RACC
We connect artists and creatives to opportunity and access. An independent nonprofit organization, the Regional Arts & Culture Council supports the creative economy in greater Portland by equitably providing funding and services to artists and art organizations; managing and growing a diverse, nationally acclaimed, public art program; and developing enduring public and private partnerships. Through advocacy and engagement, we are building support for our community of artists, arts education, and arts and culture.
About B&B
Our collective talent, experience, and investment in technology allow us to produce award-winning projects year after year. Call on us for packaging solutions, direct mail, fulfillment, large format and environmental graphics, apparel and promotional products, and integrated marketing communications plans. We focus on results and strive to exceed our customers' expectations every day.
This gorgeous Northwest artist calendar doubles as a sample packet! Request one today.