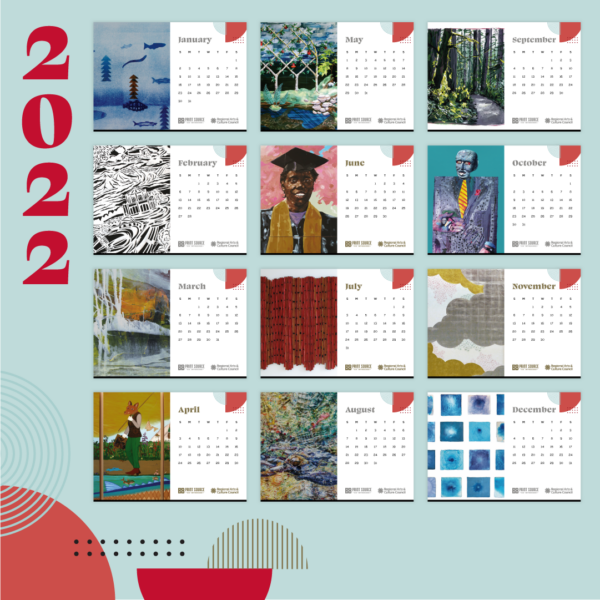 In 2022, B&B Print Source is proud to partner with the Regional Arts & Culture Council (RACC) to bring you a full-year calendar featuring works by renowned Northwest artists. Each page features a unique specialty printing process to showcase our print capabilities. You can order the calendar absolutely free by jumping on our list HERE.
Lillian Pitt | B&B Calendar January Featured Artist
"Almost all of my art-making honors my ancestors who lived in the Columbia River Gorge for more than 10,000 years…. I want viewers to experience my honoring and the pleasure of working and to let them know that we, Native Americans, are still here, creating and thriving."
Lillian Pitt is a Pacific Northwest Native American artist. The focus of her work is on creating contemporary fine art pieces that delight today's art lovers, and at the same time, honor the history and legends of her people.
Title of work: January 1, Monotype
Print details: This calendar page is printed on the Xerox Iridess Digital Press using CMYK process plus silver toner for a metallic pop on Classic Techweave Solar White.
About RACC
We connect artists and creatives to opportunity and access. An independent nonprofit organization, the Regional Arts & Culture Council supports the creative economy in greater Portland by equitably providing funding and services to artists and art organizations; managing and growing a diverse, nationally acclaimed, public art program; and developing enduring public and private partnerships. Through advocacy and engagement, we are building support for our community of artists, arts education, and arts and culture.
About B&B 
Our collective talent, experience, and investment in technology allow us to produce award-winning projects year after year. Call on us for packaging solutions, direct mail, fulfillment, large format and environmental graphics, apparel, and promotional products, and integrated marketing communications plans. We focus on results, and we strive to exceed our customers' expectations every day. 
This gorgeous calendar doubles as a sample packet! Request one today.