Sunnyside piazza | B&B CALENDAR September FEATURED ARTIST
Sunnyside Neighborhood Community
Project @sunnysidepiazza
Photographer: Anton Legoo
As fall approaches, we celebrate the incredible art installation at the Sunnyside Piazza! We proudly present our September 2021 Portland Street Art Alliance (PSAA) / B&B Print Source Calendar page in print. This month we highlight this inspiring neighborhood as part of the Sunnyside Piazza mural maintained by the Sunnyside Neighborhood Community. Want to be first on the list for the fun 2022 notebooks? Get on the B&B list HERE!
This month's page is printed on our Xerox Iridesse Press in full-color plus two spot metallic inks on Classic Techweave Solar White. It stands tall on our paperboard stand produced by our Large Format Printing department team – sleek and stylish!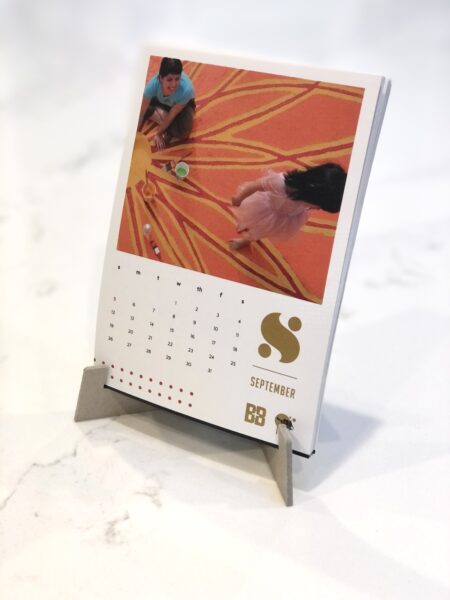 ABOUT THE WORK
Since 2000, neighbors of Portland's historic Sunnyside neighborhood have come together every Spring to repaint a huge sunflower at the intersection of SE 33rd and Yamhill, one block off Belmont. Sunnyside Piazza is unique in that it contains commissioned art in addition to community art interventions like the painted sunflower. Also at the piazza are birdhouses, chalk boxes, metal sculptors, wooden plaques, yarn installations, and various forms of art adhered to the backs of signs and poles. Passersby are drawn to this community art — it is a real tourist destination. Visitors often ask questions, interact with, and take pictures of these quirky interventions.
VISIT THE September CALENDAR LIVE WORK
ABOUT PORTLAND STREET ART
Portland Street Art Alliance is a 501(c)3 non-profit organization that provides access to resources, networking platforms, and professional development opportunities for Pacific Northwest street artists. Since its founding in 2012, PSAA has managed over 100 private and publicly-funded street art projects around town. The team collaborates with hundreds of artists in the region. PSAA's mission is to actively transform the public art landscape by developing more inclusive place-based programs and increasing access to art for everyone in the city.