salvation army |
B&B Calendar May Featured Artist
WETIKO @wetiko.work
Photographer: Portland Street Art Alliance
It is springtime in the beautiful Pacific NW. In celebration, we proudly present our May 2021 Portland Street Art Alliance (PSAA) / B&B Print Source Calendar page in print. This month we highlight the love-filled installation at the Salvation Army by artist Wetiko. A few copies remain and available for your return to the office or to freshen up your current space! Request your copy by clicking here and receive your own set of prints showcased in this year's stunning and unique PSAA calendar.
This month's page is printed on our Xerox Iridesse Press in full-color plus two spot metallic inks on Classic Techweave Solar White. It stands tall on our paperboard stand produced by our Large Format Printing department team – sleek and stylish!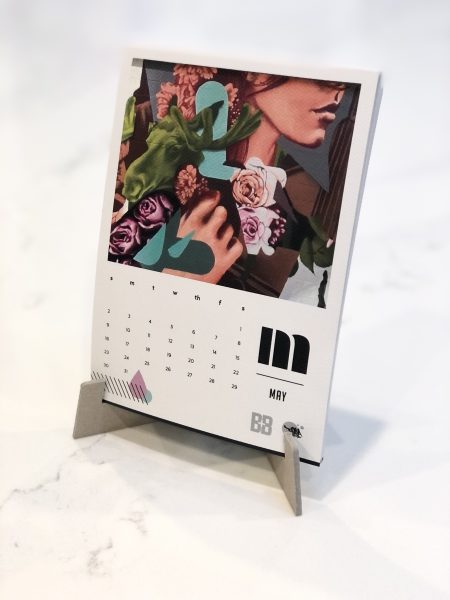 About the Work
Wetiko is the creative expression of artist Kyle Danley. For 15 years, Kyle has been creating works that hope to find a comfortable balance between what is real and society's forced "realities."
"This mural was painted following a trip to Sun Valley, ID. The imagery I chose depicts a specific moment of this trip when the side effects of Wetiko were subdued on a walk with a lover. Relationship hardship was put on hold when a mother moose and her offspring came forward, like medicine, to clarify what was really going on. There was beauty in that moment, and the love for his partner and love for being alive was restored."
– Wetiko
Visit the May Calendar Live Work
About Portland Street Art
Portland Street Art Alliance is a 501(c)3 non-profit organization that provides access to resources, networking platforms, and professional development opportunities for Pacific Northwest street artists. Since its founding in 2012, PSAA has managed over 100 private and publicly-funded street art projects around town. The team collaborates with hundreds of artists in the region. PSAA's mission is to actively transform the public art landscape by developing more inclusive place-based programs and increasing access to art for everyone in the city.