Viaduct arts |
B&B Calendar June Featured Artist
MARIA RODRIGUEZ
@sparkykneecap


Photographer:

Portland Street Art Alliance

We proudly present our June 2021 Portland Street Art Alliance (PSAA) / B&B Print Source Calendar page in print. This month we highlight the unique and playful installation at the Viaduct by artist Maria Rodriguez. If you have thoroughly procrastinated, we may be able to drum up a couple of copies for your return to the office or to freshen up your current space for the second half of the year! Request your copy by clicking here and receive your own set of prints showcased in this year's stunning and unique PSAA calendar.

This month's page is printed on our Xerox Iridesse Press in full-color plus two spot metallic inks on Classic Techweave Solar White. It stands tall on our paperboard stand produced by our Large Format Printing department team – sleek and stylish!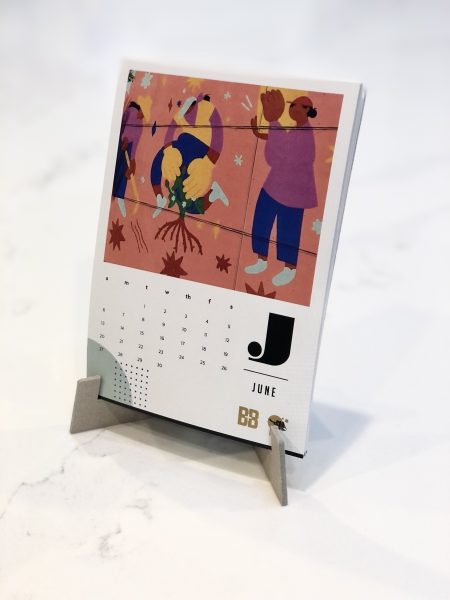 About the Work
Maria Rodriguez is a Mexican-American illustrator and muralist. Her work explores themes of identity and culture while also creating imagery that is playful and lighthearted. Maria studied at the Pacific
Northwest College of Art, focusing on editorial illustration.
"Without Indigenous, Latinx, and POC farmworkers, we would not have food on our tables. Our food has a story behind it and I'd like to show gratitude to those who work tirelessly and face things one should not have
to, in order to survive. With this mural, I'd like people to both face that reality and think about ways they can show appreciation. With the grant-awarded funds I received for this mural, I donated part of them to Pineros  Campesinos Unidos del Noroeste (PCUN) and Causa Oregon."
– Maria Rodriguez
Visit the June Calendar Live Work
About Portland Street Art
Portland Street Art Alliance is a 501(c)3 non-profit organization that provides access to resources, networking platforms, and professional development opportunities for Pacific Northwest street artists. Since its founding in 2012, PSAA has managed over 100 private and publicly-funded street art projects around town. The team collaborates with hundreds of artists in the region. PSAA's mission is to actively transform the public art landscape by developing more inclusive place-based programs and increasing access to art for everyone in the city.