Ladies Up |
B&B Calendar July Featured Artist
KYRA WATKINS @hernamewaskyra
Photographer: Portland Street Art Alliance
Summer is officially here. In celebration, we proudly present our July 2021 Portland Street Art Alliance (PSAA) / B&B Print Source Calendar page in print. This month we highlight this inspiring installation as part of the Ladies Up mural by artist Kyra Watkins. We are officially out of the calendars. However, you can get on the B&B list for a 2022 calendar by clicking here.
This month's page is printed on our Xerox Iridesse Press in full-color plus two spot metallic inks on Classic Techweave Solar White. It stands tall on our paperboard stand produced by our Large Format Printing department team – sleek and stylish!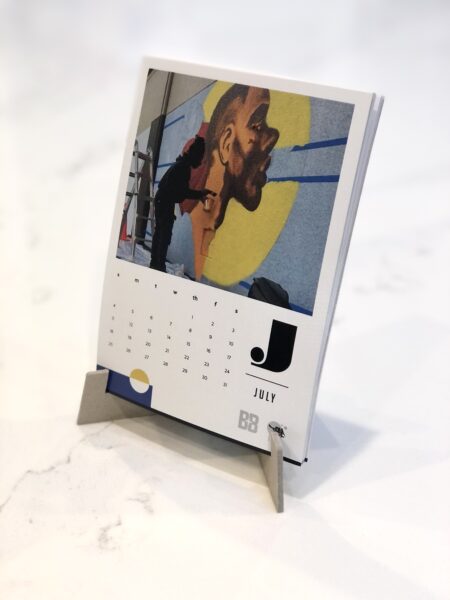 About the Work
Kyra Watkins is a Portland-based artist originally from Cincinnati, Ohio. This was Kyra's first mural in Portland, part of PSAA's Ladies Up Project. This unique project brought emerging local female-identifying artists together to paint several murals near Revolution Hall during the beginning of the Black Lives Matter Protests in 2020. For several years, PSAA has been working to create opportunities and safe spaces for female-identifying muralists and artists of color to paint. Female/femme/non-binary artists are highly underrepresented when it comes to overall access to painting in public space. As a result of this gender inequity, not all perspectives and stories are being told in our artistic landscape
"This mural depicts the unburdening of holding on, the fearlessness of letting go, and the beauty of the experience." – Kyra Watkins
Visit the July Calendar Live Work
About Portland Street Art
Portland Street Art Alliance is a 501(c)3 non-profit organization that provides access to resources, networking platforms, and professional development opportunities for Pacific Northwest street artists. Since its founding in 2012, PSAA has managed over 100 private and publicly-funded street art projects around town. The team collaborates with hundreds of artists in the region. PSAA's mission is to actively transform the public art landscape by developing more inclusive place-based programs and increasing access to art for everyone in the city.