Alberta 19 | B&B CALENDAR December FEATURED ARTIST
MADDO @acheyhands
Photographer: Portland Street Art Alliance
It's December 2021! Our last but not least calendar entry is here! It is time to visit the incredibly detailed Albert 19 art installation by local artist Maddo. Check it out on the December 2021 Calendar page in print! B&B Print Source is proud to be a partner with the Portland Street Art Alliance (PSAA) and highlight this unique artwork!
Want to be first on the list for our NEW 2022 PSAA notebooks or our fresh Oregon Regional Arts and Culture Council calendars? Get on the list HERE!
This month's page is printed on our Xerox Iridesse Press in full-color plus two spot metallic inks on Classic Techweave Solar White. It stands tall on our paperboard stand produced by our Large Format Printing department team – sleek and stylish!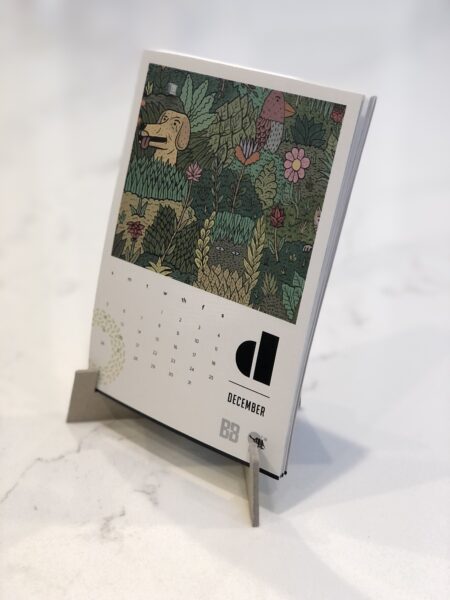 ABOUT THE WORK
In Winter 2018, PSAA organized a commissioned mural for the new Alberta 19 development in the Alberta Arts District. This mural was painted by Maddo, a multimedia artist who lives and works in Portland, Oregon.
"This mural expresses the feeling of being confused in a strange world. Although it is bright and colorful, it raises thoughts about our connection to the natural world and the domestication of the wild. It hopes to inspire others to have respect for all that is alive while putting a smile on their face."
– Maddo
VISIT THE December CALENDAR LIVE WORK
ABOUT PORTLAND STREET ART
Portland Street Art Alliance is a 501(c)3 non-profit organization that provides access to resources, networking platforms, and professional development opportunities for Pacific Northwest street artists. Founded in 2012, PSAA has managed over 100 private and publicly-funded street art projects around town. The team collaborates with hundreds of artists in the region. PSAA's mission is to actively transform the public art landscape by developing more inclusive place-based programs and increasing access to art for everyone in the city.